Masdar Institute (United Arab Emirates) Visited YNU
Masdar Institute (United Arab Emirates) Visited YNU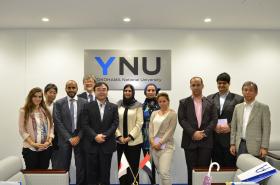 On Thursday, June 21, 2013, a delegate from Masdar Institute (Emirate of Abu Dhabi, UAE) led by Dean of Students Dr Behjat AlYousuf and the UAE Embassy in Tokyo Energy Attache Mr Omaran Taryam visited YNU.
The party took an opportunity to make a campus tour ahead of starting a joint research with YNU. They visited several laboratories of the Faculty of Engineering related to the joint research.
After the campus tour, the party made a courtesy call to YNU Vice President Hitoshi Yamada. Dean of Faculty of Engineering Atsuo Kawamura and Center for Future Medical Social Infrastructure Based on Information Communications Technology Director Professor Ryuji Kohno also attended the meeting. Professor Kohno introduced his current research and they discussed on the future exchange of researchers between the two institutes.