Shanghai Jiao Tong University Prof. Chen Gang Awarded YNU Honorary Doctorate
Shanghai Jiao Tong University Prof. Chen Gang Awarded YNU Honorary Doctorate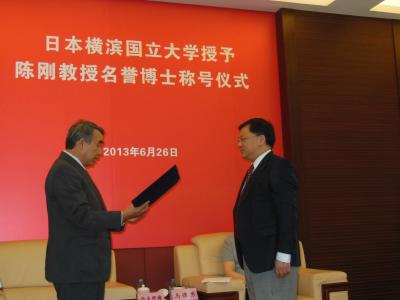 On Wednesday, June 26, 2013, YNU President Kunio Suzuki, Faculty of Engineering Professor Yasumi Kawamura and International Office Manager Ms Yoko Ito visited Shanghai Jiao Tong University (SJTU) to hold YNU Honorary Doctorate Awarding Ceremony to honor the SJTU former Vice President Chen Gang. From SJTU, University Council Chairperson Professor Ma Dexiu, Marine Design & Research Institute of China Vice President Gao Kang, Deputy Dean of School of Naval Architecture, Ocean, and Civil Engineering Professor Ma Ning (YNU alumnus), and other related teaching and administrative staff attended the ceremony.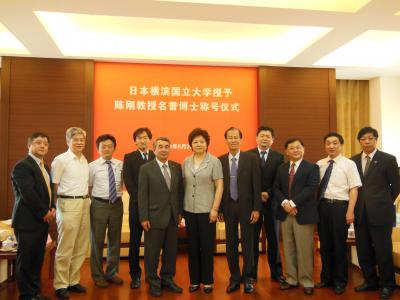 The ceremony started with the introduction of Professor Chen's achievements by Professor Kawamura. Professor Kawamura stated that Professor Chen "accomplished tremendous achievements as a leading researcher in the field of ship and marine, and made significant contribution to the development of academic and international exchanging between Yokohama National University and Shanghai Jiao Tong University for a long period". President Suzuki then handed an honorary doctorate and a commemorative shield to Professor Chen with respect and gratitude.
Professor Chen extended his appreciation to both SJTU and YNU, and expressed his determination to keep playing an important role in the development of educational and research cooperation of the two universities in the future.
SJTU University Council Chairperson Professor Ma Dexiu expressed her gratitude to the SJTU faculty members who are alumni of YNU for the contributions they have made for the development of the university. She concluded that this awarding an honorary doctorate to Professor Chen would make the relationship between the two universities even stronger in the future.