YNU Signed on Academic Exchange Agreement with UFPE(Brazil)
YNU Signed on Academic Exchange Agreement with UFPE(Brazil)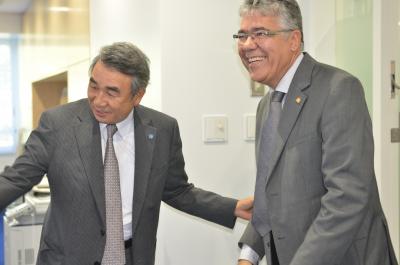 On Tuesday, August 27, 2013, Federal University of Pernambuco (UFPE) President Anisio Brasileiro de Freitas Dourado, Director of International Office Professor Maria Leonor Alves Maia, Director of Engineering Professor Antonio Carlos Dantas Antonino, Professor Armando Hideki Shinohara, and Lecturer Ayako Ono visited YNU to hold a signing ceremony for an academic exchange agreement with YNU.
Prior to the ceremony, the delegates made a tour to the experimental facilities such as those related to civil engineering, which were introduced by Associate Professor SUZUKI Takayuki who had visited UFPE in May together with President SUZUKI Kunio, and also those related to naval, maritime and aerospace engineering by Associate Professor HIRAKAWA Yoshiaki. At Systems Design for Ocean-Space Program, the delegate also had a talking session with YNU researchers on research collaboration in the future.
At the president's office, Vice-President YAMADA Hitoshi, Deputy Executive Director for International Affairs Professor ARAKI Ichiro and International Office Manager Ms. ITO Yoko were present to see the two presidents signing on the Agreement written in Japanese, Portuguese, and English, in a friendly atmosphere.
After the ceremony, International Office Administrator Mr. YOSHIDA Yosuke gave a presentation on introduction to YNU, not only in Japanese but also in some Portuguese. After the presentation, they enjoyed Japanese-style lunch boxes while having fruitful discussions.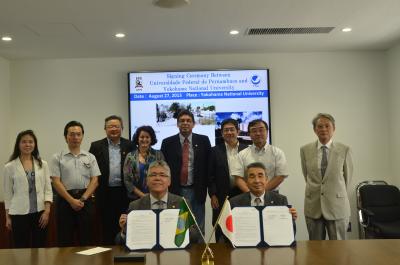 In recent years, ship building industries have experienced a good progress in Brazil and the related enterprises from Japan have also set up operations in the country for technical collaboration. UFPE has also launched the ship building program since several years ago. As for the two universities, a researcher who completed YNU Graduate School of Engineering (Division of Systems Integration) has started to work for UFPE since this academic year. Better and deeper exchanges including student sending and hosting, as well as academic exchanges, are expected in the future.
Link to AP Suzuki
Civil Engineering Program, Dept. of Architecture, Infrastructure, Ocean Engineering and Ecosystem Science, College of Engineering Science

Link to AP Hirakawa
Systems Design for Ocean-Space Program, Department of Architecture, Infrastructure, Ocean Engineering and Ecosystem Science, College of Engineering Science