YNU Alumni Reunion Held in Myanmar
YNU Alumni Reunion Held in Myanmar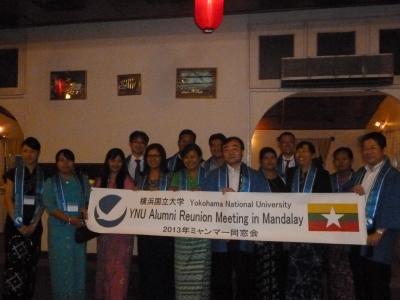 On October 30th, 2013, YNU Alumni Reunion was held at Mandalay Swan Hotel in Mandalay, and on October 31st, at Chatrium Hotel in Yangon. 14 YNU alumni and staff participanted in Yangon in the reunion in Mandalay and 25 including guests from the embassy of Japan, JICA Myanmar Office, and JDS Project Office participated in Yangon. There were large turnouts at both reunions.
From YNU, Vice President Hitoshi Yamada, Deputy Executive Director for International Affairs Professor Ichiro Araki, International Office Section Chief Kuninobu Ide, and Law and Public Policy Office staff Nao Arimitsu participated. Alumni shared their current news and good old memories in Yokohama in a friendly atmosphere.
In Yangon, the Japanese Embassy Counselor Hideaki Matsuo and JICA Myanmar Office Manager Masahiko Tanaka also participated in the reunion and greeted the participants, strengthening the network among international alumni, the embassy and JICA. Ms. Khin Kyu Kyu was elected as the chairperson of Myanmar Alumni Reunion. It is expected that the alumni association will be even more active in the future.