YNU Signed on Academic and Student Exchange Agreement with Universiti Utara Malaysia
YNU Signed on Academic and Student Exchange Agreement with Universiti Utara Malaysia
On Wednesday, November 13, 2013, Universiti Utara Malaysia (UUM) Vice Chancellor Professor Dato' Dr. Mohamed Mustafa bin Ishak, visited YNU for the signing ceremony of the academic and student exchange agreement between UUM and YNU. From UUM, College of Business Dean Dr. Ahmadasri bin Alaudin, School of Accountancy Adjunct Fellow and YNU alumnus Dr. Sheikh Mohammed Rafiul Huque, and Special official to the Vice Chancellor Mr. Mohd Khary Mukhtaruddin attended the ceremony along with Vice Chancellor Ishak. From YNU, President Kunio Suzuki, Executive Director Shuji Mizoguchi, College of Business Administration Dean Hiroyuki Nakamura, International Strategy Organization Professor Shohei Yoshida, College of Business Administration Assistant Professor Hisami Andrade, and International Office Manager Yoko Ito welcomed the delegate, and the ceremony was held in a friendly atmosphere.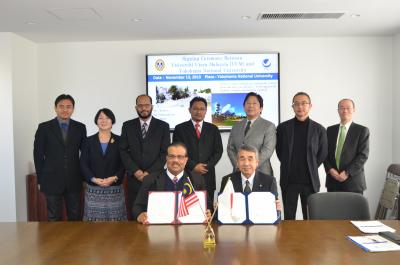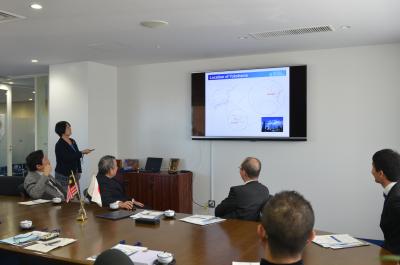 After the ceremony, Assistant Professor Andrade gave a presentation to explain history of Yokohama and overview of YNU campus. In return UUM also gave a presentation on its campus and outlines of the university. Then the presidents extended greetings to each other, in particular, President Suzuki did so in Malay. The attendants had an animated discussion on the future exchanges between the two universities.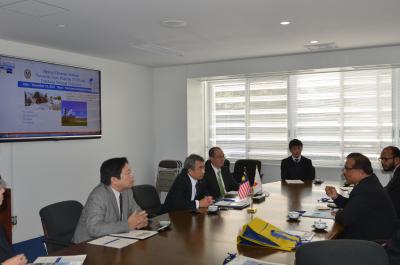 On the previous day, the delegations visited the College of Business Administration. They made a campus tour to the university library, dormitory, and also lecture rooms. They exchanged opinions with the faculties of the College of Business Administration on how to promote the student exchange in the future.