Tashkent Financial Institute (Uzbekistan) Visited YNU
Tashkent Financial Institute (Uzbekistan) Visited YNU
On Wednesday, November 27, 2013, Tashkent Financial Institute (TFI, Uzbekistan) Rector Azizov Ulugbek Uktamovich, Vice-Rector Shennaev Xujayor Murmanovich, Accounting and Audit Faculty Dean Kudaybergenov Janpolat Shamuratovich, Insurance Business Faculty Dean Radzhabov Umurzak Ablakulovich, Tax and Taxation Head Juraev Abdugaffor Safavovich visited YNU for the signing ceremony of the academic exchange agreement with YNU College of Business Administration.
TFI was established in 1991, the year of independence of the Republic of Uzbekistan from the Soviet Union. Since then, the institute has committed education and research to develop highly-skilled professionals and specialists in the economic sphere, who will put the new country's laws into practice in accordance with transformation of its economic system. Rector Ulugbek has taken office since the beginning of 2013 in his age of late thirties. It was a precious opportunity for Rector Ulugbek and College of Business Administration Dean NAKAMURA Hiroyuki to conclude this agreement as Rector Ulugbek is an alumnus of YNU who enrolled in 2005 and received Master's degree under the supervision of Professor Nakamura.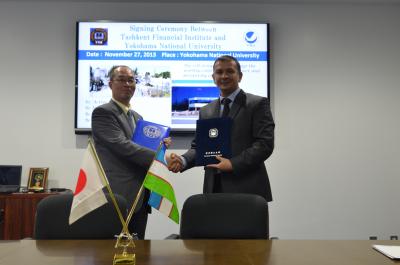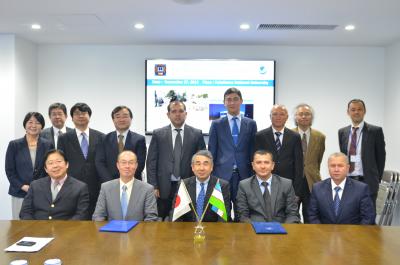 Apart from Professor Nakamura, President SUZUKI Kunio, Vice President MIZOGUCHI Shuji, Vice President YAMADA Hitoshi, Deputy Executive Director for International Affairs Professor ARAKI Ichiro, Faculty of International Social Sciences Professor MATSUI Yoshiki, Professor TANABU Motonari, and Assistant Professor ANDRADE Hisami, International Office Manager ITO Yoko, and International Office Section Manager IDE Kuninobu attended to witness the ceremony at the President's office.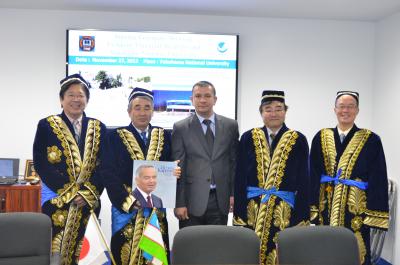 After the ceremony, Rector Ulugbek gave a presentation on the outlines of TFI, which received strong interest from the YNU attendees. The people then had a discussion in a friendly atmosphere, especially Vice President Mizoguchi, who is also an alumnus of YNU College of Business Administration, was pleased to share his memories as a student of YNU.
TFI gave the traditional clothing of Uzbekistan as a gift. Wearing the dress, the executives and Rector Ulugbek took memorial photos with smiles.