University of Da Nang (Viet Nam) Visited YNU
University of Da Nang (Viet Nam) Visited YNU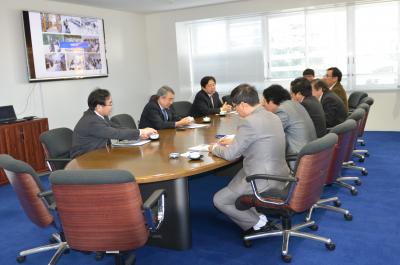 On Friday, January 17, 2014, President Tran Van Nam and other 6 faculty members from the University of Da Nang (UD, Viet Nam) made a courtesy visit to YNU.
UD is an important partner university of YNU. President Nam was invited to YNU as a keynote speaker of 2014 YNU International Symposium "Role of Higher Education for Development of Global Human Resources", which was held on the following Monday, January 20. Taking this opportunity, other faculty members specialized in Engineering, Environment, Economics, and Management at UD were also invited in order to have discussions with related faculties of YNU on potentialities and possibilities of further exchange.
At the President's Office, President SUZUKI Kunio, Vice-President MIZOGUCHI Shuji and YAMADA Hitoshi, Deputy Executive Director for International Affairs Professor ARAKI Ichiro, and International Office Manager Ms. ITO Yoko welcomed the delegate. Among the delegate, University of Technology Lecturer, Dr. Le Anh Tuan was an alumnus of YNU and he spoke about his own experiences as an ex-YNU student. It followed by the introduction of YNU and Professor Araki made a presentation on student life at YNU.
The discussions went on in a warm atmosphere, reflecting the very good relationship between the two universities. Based on such results of active exchange, UD and YNU confirmed further and stronger cooperation and collaboration in more academic fields and dimensions in the future.
After the meeting, the delegate visited the representatives of each college and graduate school and discussed on the details of exchange activities in the future. We expect that further mutual cooperation, collaboration, and exchange between UD and YNU will soon come to the next step.