Kabuki Study Tour for International Students
Kabuki Study Tour for International Students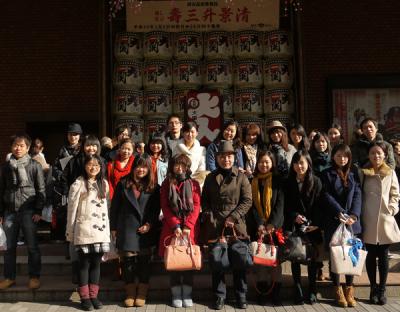 On January 17, 2014, the last study tour of the academic year, "Kabuki Study Tour for International Students" was conducted.
A total of 22 students visited Shimbashi Embujo Theatre to watch a play "Kotohoide Mimasu Kagekiyo" in which famous kabuki stars Ebizo Ichikawa and Shido Nakamura took parts. Students commented after watching the performance that although they could not follow the story entirely, they still very much enjoyed the colorful costumes, dramatic stagecraft, and shamisen performance.
Also, on the day before the study tour, the College of Education and Human Sciences Professor Yu Kawazoe gave a lecture on history and characteristics of kabuki for the participants so that they could fully enjoy the performance on the following day.
It was a wonderful opportunity for the students to have a firsthand experience of a traditional Japanese culture.
Japanese:
留学生のための「歌舞伎見学旅行」を実施しました!