University of Transport and Communications (Viet Nam) Visited YNU
University of Transport and Communications (Viet Nam) Visited YNU
On Monday of March 17, 2014, Deputy Rector Prof. Dr. Nguyen Van Vinh and other 5 faculties from University of Transport and Communications (Viet Nam) made a courtesy visit to YNU.
UTC is a partner university of YNU to have frequent research collaboration and student exchanges. The delegates aim to start new research collaboration along with YNU to come to Japan, to visit the relative institutions and facilities, and also have discussions with the people involved. Before the courtesy visit, the delegates made a tour of the relative laboratories in YNU.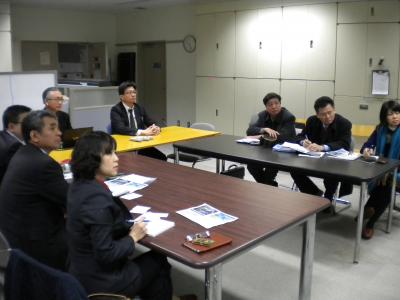 They visited the Conference Room No.1 of the Administrative Bureau to be welcomed by Vice President YAMADA Hitoshi, Dean of Faculty of Urban Innovation Prof. NAKAMURA Fumihiko, Deputy Executive Director for International Affairs Professor ARAKI Ichiro, and International Office Manager Ms. ITO Yoko. UTC Lecturer Dr. Pham Hoang Kien, the alumnus of YNU, acted as a translator to produce a warm atmosphere until the end, with a talk about the experiences in Japan until then. The talk was developed as a discussion on the common specialization on which the new research collaboration was organized.
Vice President Yamada gave a presentation on YNU to add comments on close relationship between Viet Nam and YNU.
After the visit, meetings were held on each academic directory of the research collaboration. The broader and deeper exchanges between UTC and YNU are expected in the future.