Can Tho University (Viet Nam) Visited YNU
Can Tho University (Viet Nam) Visited YNU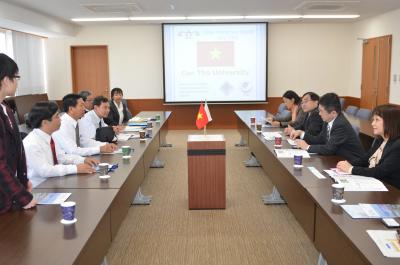 On Monday of March 24, 2014, Dean of College of Aquaculture and Fisheries Dr. Truong Quoc Phu and other two teaching staff from Can Tho University (Viet Nam) and two officers from local governments of Viet Nam made a courtesy visit to YNU.
The Can Tho University is a national university of Viet Nam, located in Mekong Delta, which is famous for its agricultural researches to lead others in the country. The delegates came to Japan to participate into a workshop to be held in YNU, "Sustainable Aquaculture in a Risk Society," to have discussions on a research collaboration, and a visit to the marine products business carried out in Kanagawa Prefecture, attended by College of Education and Human Sciences Associate Professor IKEGUCHI Akiko.
They visited the Conference Room No.2 of the Administrative Bureau to be welcomed by Vice President YAMADA Hitoshi, Deputy Executive Director for International Affairs Professor ARAKI Ichiro, and International Office Manager Ms. ITO Yoko and other people. The talks started in a warm atmosphere with mutual introductions through interpretation by Mr. Mai Mai Cuong, a student of College of Engineering Science of YNU.
In the talks, the possibility of a new academic exchange agreement between Can Tho University and YNU was mentioned because of the close relationship between Viet Nam and YNU and also because mutual development of academic cooperation and student exchanges were also forecasted.
The time of discussion was not so long, but its contents were concentrated to become fruitful for the both universities.