The Hong Kong Polytechnic University and Sichuan University (China) Visited YNU
The Hong Kong Polytechnic University and Sichuan University (China) Visited YNU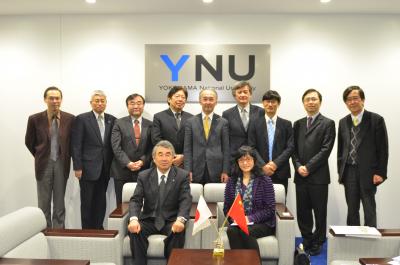 On Thursday, March 27, 2014, School of Nursing Professor Alice Yuen Loke and Associate Professor Huang Wensheng from The Hong Kong Polytechnic University (Hong Kong), and Sichuan Post-Disaster Reconstruction Support and Research Center with The Hong Kong Polytechnic University Professor Gu Linsheng from Sichuan University (China) made a courtesy visit to YNU.
The both universities craved to contribute to reconstruction from the damages with The Great Sichuan Earthquake in 2008 and established Sichuan Post-Disaster Reconstruction Support and Research Center with The Hong Kong Polytechnic University in Sichuan, China, to play a role of the academic adviser for reconstruction of the earthquake stricken areas. The delegates visited Japan and YNU to co-hold a forum "The Current Situations of Education and Research in Disaster Proof and Reduction and Future Development of Human Resources," to make a tour and inspection to the stricken areas of The Great East Japan Earthquake and also Disaster Reduction and Human Renovation Institution in Kobe City, and also have discussions on the practical exchange programs among the three universities.
Faculty of International Social Sciences Professor HASEBE Yuichi introduced the delegates to the meeting space at the second floor of Administration Bureau. They are welcomed by President SUZUKI Kunio, Vice President KOKUBUN Yasuo, Vice President MIZOGUCHI Shuji, Vice President YAMADA Hitoshi, Secretary General SHIMIZU Akira, Faculty of Urban Innovation Professor TASAI Akira, Information Technology Center Professor XU Haoyuan, and International Office Manager Ms. ITO Yoko. The discussion began with mutual introductions in a warm atmosphere, followed by translation given by Tokyo University of Science Researcher Jin Dan, who finished Graduate School of International Social Sciences of YNU.
President Suzuki initiated the discussion with his own experiences on visit to Sichuan and Professor Yuan provided the current situations of Sichuan in ongoing reconstruction and also contribution and support to the stricken areas by the both universities. Experiences and initiatives by YNU on The Great East Japan Earthquake were also introduced. The three universities reached consensus on interests in contribution to reconstruction from the viewpoint of education and research so necessity of a new academic exchange agreement was also mentioned.
Further triangle exchange and successive efforts are expected.