UFPE (Brazil) Visited YNU
UFPE (Brazil) Visited YNU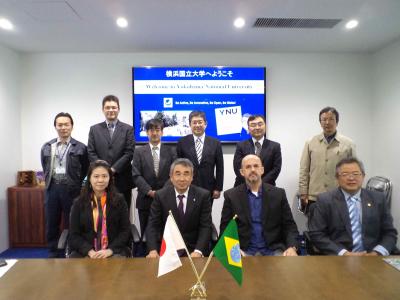 On Monday, April 21, 2014, Federal University of Pernambuco (UFPE, Brazil) Professor Ralf Schwamborn, Professor Armando Hideki Shinohara, and Lecturer Ono Ayako visited YNU.
They visited the President's Office to be welcomed by President SUZUKI Kunio, Vice President YAMADA Hitoshi, and Deputy Executive Director for International Affairs Professor ARAKI Ichiro. Several teaching staff from various research disciplines to participate in research collaboration with UFPE also attended to make the meeting quite fruitful.
People talked on the wide range of topics even in the short duration, such as the current situations of research collaboration of the two universities after the agreement of academic exchange in the last August and development in the future, and also the possibility of new research collaboration in another discipline.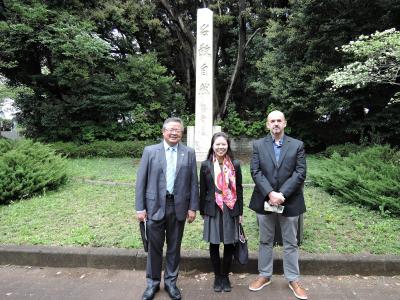 On Tuesday, April 22, Professor Schwamborn gave a special lecture "Mangrove and man in north-eastern BRAZIL: Socio-economic aspects and ecology, with emphasis on urban mangroves" in "Society of Creatures (Normally lectured by Faculty of Environment and Information Sciences Professor Mochida Yukira)", the liberal arts class. The class arose well spontaneously with an active Q&A session from approximately 200 students to make the lecture room almost full.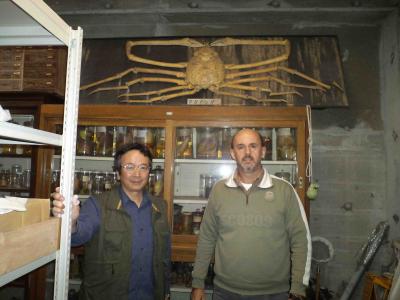 He visited Manazuru Marine Center for Environmental Research and Education, the affiliated institution of Faculty of Environment and Information Sciences, on Thursday, April 24. Professor KIKUCHI Tomohiko and Associate Professor SHIMODE Shinji welcomed him at MMCER to introduce him to the facilities there, such as for accommodations, research, and experiments. The training ship "Tachibana" also welcomed Professor Schwamborn for trial embarkation, and did also the surroundings and the environment around MMCER, such as the Port of Manazuru and Ohayashi View Park, to make the visit quite fruitful.
The further development and intensification with UFPE is expected.