UFPE and COMPESA (Brazil) Visited YNU
UFPE and COMPESA (Brazil) Visited YNU
On Tuesday, May 20, 2014, Federal University of Pernambuco (UFPE, Brazil) Professor Frederico Dias Nunes, Professor Armando Hideki Shinohara, and Lecturer Ono Ayako, and also Mr. Roberto Cavalcanti Tavares, Chief, and Mr. Franklin Azoubel, General Manager of Project Department from Companhia Pernambucana de Saneamento (COMPESA, The Waterworks Bureau of Pernambuco, Brazil) visited YNU.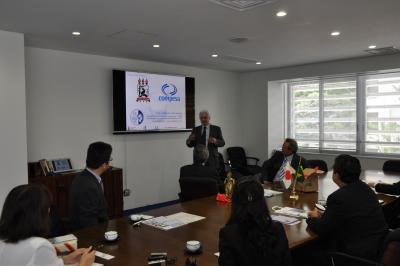 UFPE came to YNU again following the visit in April, along with people from the waterworks bureau who could not come then, in order to have discussions on a new research collaboration. They visited the President's Office to be welcomed and greeted by President SUZUKI Kunio, College of Education and Human Sciences of Education Professor YOSHIDA Keiichiro, and International Office Manager Ms. ITO Yoko.
In the discussions, a presentation to introduce YNU was given, followed by introductions on Pernambuco State and its capital Recife by UFPE Professor Nunes, who was also in charge of a coordinator of the research center of waterworks at Pernambuco, and by Mr. Tavares, Chief of COMPESA, as well as a collaborated mission between UFPE and COMPESA.
It is thought to be quite meaningful for YNU to commit such an aspirational challenge from the perspective of research.