President Suzuki and the Delegates Visited East China Normal University (China)
President Suzuki and the Delegates Visited East China Normal University (China)
On Friday of May 23, 2014, the YNU delegates to China, headed by President SUZUKI Kunio, which consisted of Vice President YAMADA Hitoshi and other 10 members, visited East China Normal University (ECNU).
The YNU delegates were welcomed by ECNU President CHEN Qun, Professor LI Xuechang, Director, MBA Education Center, and Business School Associate Professor LI Jing (YNU alumina) to have discussions on further reinforcement of academic and student exchange. The two universities came to an agreement to expedite organizing a double-bachelor's degree program (2+2.5) between College of Economics of YNU and Business School of ECNU strongly, which should start this autumn.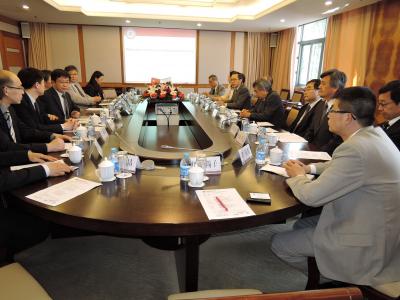 Furthermore, they also consented to step up faculty & administrative staff exchange by entering mutually assigned members into a contract of employment for 1 year or so each other to take part in education, research, and also administrative duties. It was decided that this program would start between College of Economics/ College of Business Administration of YNU and Business School of ECNU and then would expand to the fields of science & engineering.
For others, people talked on and agreed to co-offered classes, distant-learning facilitation, and research collaboration encouragement to result in the discussions quite fruitful.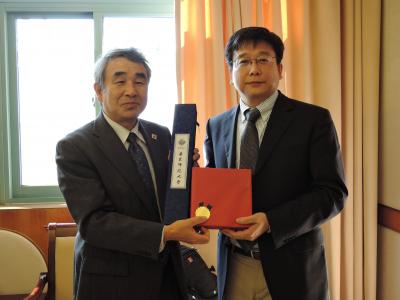 YNU Delegates to China
1) Prof. SUZUKI Kunio, President
2) Prof. YAMADA Hitoshi, Vice President
3) Prof. NAKAMURA Hiroyuki, Dean, College of Business Administration
4) Prof. HASEBE Yuichi, Faculty of International Social Sciences/ Director, Information Technology Service Center
5) Prof. GUO Peijun, Faculty of International Social Sciences
6) Prof. YAGI Hiroyuki, Faculty of International Social Sciences/ Director, Center for Economic Growth Strategy
7) Prof. XU Haoyuan, Center for Information Technology Service Center
8) Associate Prof. ANDRADE Hisami, International Strategy Organization
9) Associate Prof. MATSUYUKI Mihoko, Faculty of Urban Innovation
10) Mr. KITAZAWA Hisanori, Manager, YNU Alumni Association Preparation Section
11) Ms. ITO Yoko, Manager, International Office