University of Southampton Malaysia (Malaysia) Visited YNU
University of Southampton Malaysia (Malaysia) Visited YNU
On Tuesday of June 10, 2014, University of Southampton Malaysia CEO Professor John McBride and Education and Research Manager Dr. Suhaila Mohd Sanip visited YNU.
University of Southampton in United Kingdom is a partner university of YNU to have frequent exchanges in both levels of academics and students. University of Southampton Malaysia is the first campus which was established outside U.K. in 2012 to provide education mainly in mechanical engineering and other field of engineering. CEO McBride and Dr. Sanip made the return call for the delegation by President Suzuki and the delegates in March.
They visited the President's Office, to be welcomed by President SUZUKI Kunio, Dean of Faculty of Engineering KAWAMURA Atsuo, Faculty of Engineering Professor ASAMI Masatoshi, Deputy Executive Director for International Affairs ARAKI Ichiro, and International Strategy Organization Associate Professor ANDRADE Hisami. On holding a luncheon meeting, people followed the "Halal" manners out of respect for Dr. Sanip, Muslim.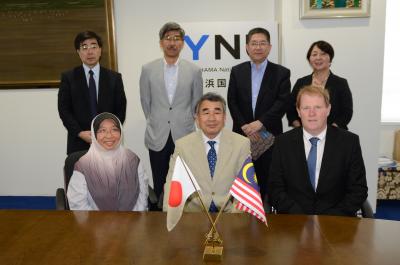 People made discussions on student exchanges at the meeting. In the afternoon, CEO McBride and Dr. Sanip made a tour of YNU campus, including YNU Museum, and then visited Faculty of Engineering. Introductions and explanations were given on individual field of Engineering and then people had another meeting. The delegates made an inspection on related research & experimental laboratories.
Increase of the student exchange opportunities would be expected hereafter.