Sookmyung Women's University (Korea) Visited YNU
Sookmyung Women's University (Korea) Visited YNU
On Friday, June 13, 2014, President HWANG Sunhye and Associate Vice President SUH Swookyung, Sookmyung Women's University (SWU, Korea), visited YNU.
SWU was established in 1906 and has performed education in order to develop female leaders of abilities and noble characters. In 1998 SWU started to provide the wireless LAN service in its campus and then created linkages between personal mobile devices and various university services to be a leading university to organize a ubiquitous -computing campus. YNU has signed the academic & student exchange agreement with SWU since 2004 to hold many exchange results mainly of female students. SWU President & Vice President came to Japan to attend an international conference to have held in Yokohama then and took an opportunity to visit YNU, the partner university located in Yokohama.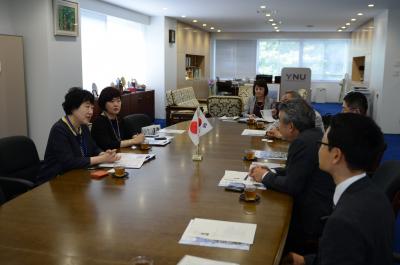 President SUZUKI Kunio and Faculty of Urban Innovation Professor SUGAWA Hidenori welcomed them at the President's Office, as well as Deputy Executive Director for International Affairs ARAKI Ichiro and Associate Professor HASEGAWA Kenji from International Strategy Organization.
The discussions started in a warm atmosphere, followed by the latest challenges in promotion in SWU, by President Hwang. Associate Professor Hasegawa gave a presentation on YNU introductions next and then President Suzuki introduced the current situations of academic & student exchanges between Japan and Korea. SWU is the Korean university to have the third longest history of exchanges along with YNU and the executives exchanged active opinions on facilitating exchanges of the first-class personnel of women more.