YNU Signed on Academic Exchange Agreement with Mandalay University (Myanmar)
YNU Signed on Academic Exchange Agreement with Mandalay University (Myanmar)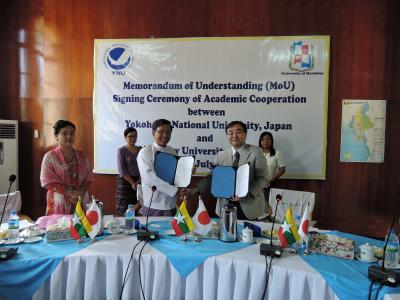 On July 30, 2014 a signing ceremony of Agreement on Academic Exchange between YNU and Mandalay University (Myanmar) was held at Mandalay University.
Conclusion and signing of the agreement was performed in a friendly atmosphere during the ceremony attended by YNU Vice-President Hitoshi Yamada and International Office Planning Section Chief Eiji Kotani, Mandalay University Rector Maung Thynn as well as related faculty and administrative staff members of Mandalay University.
Prior to the signing ceremony Rector Maung Thynn has made a presentation on Mandalay University, followed by the introduction to YNU and summary on student exchanges so far by Vice-President Hitoshi Yamada. An exchange of opinions about the future interchange was also carried out.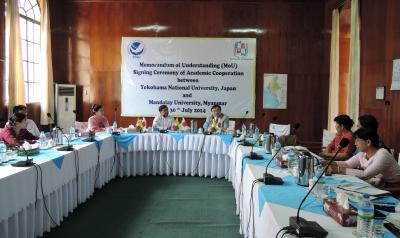 Mandalay University is the second oldest university in Myanmar, founded in 1925.
As a result of university specialization education measures by Myanmar government,
the university at present comprises of undergraduate and graduate school conferring bachelor's and master's degrees in the fields of humanities and science.
YNU has been receiving students from Mandalay University in the past. Some among them after completion of their graduate school at YNU became faculty members of Mandalay University.
It is very much expected that the Agreement on Academic Exchange between both universities will activate interexchange not only between students but also between faculty members and researchers and the cooperation between both universities in the future will develop even more.