Tongji University (China) Visited YNU
Tongji University (China) Visited YNU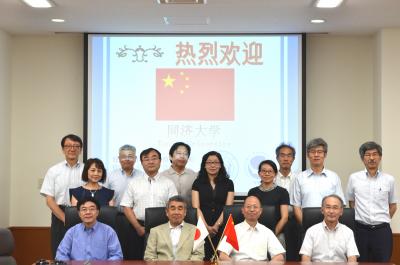 On Thursday of August 7th, Tongji University (China) Vice President CHEN Yiyi and other 4 people visited YNU.
Tongji University is a university of science and technology, located in Shanghai, whose predecessor was a medical school established by a doctor from Germany. At present, it is famous for its outstanding research and education in China, in the fields of civil engineering and urban planning. Ms. HUANG Xiaojie, International Exchange and Cooperation Office of Tongji University, an alumna of YNU, played a significant role as the coordinator of this visit.
The delegates visited Science and Engineering in the morning. A meeting with the faculty staff of Chemistry took the main place to meet the special request from Tongji that they would like to have cooperation with the concerned academic field. Next, they sat on the table of luncheon meeting at the Meeting Room No.1, Administration Bureau. President SUZUKI Kunio and other 9 people, including all the Executive Directors, welcomed the delegation, to have active and eager introductions on other matters and Q&A session on both of Tongji and YNU.
Discussions started and ended in a warm atmosphere. Tongji and YNU took a good step forward in order for materialization of signing an academic exchange agreement in the near future.