Changwon National University (Korea) Visited YNU
Changwon National University (Korea) Visited YNU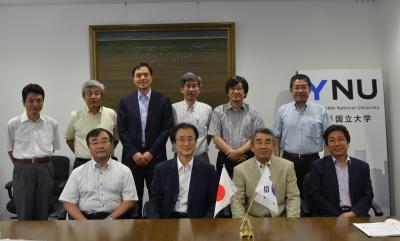 On Friday of August 8, 2014, Changwon National University (CWNU, Korea) President LEE Changyu and other 3 faculty members visited YNU.
CWNU is a national university of Korea, established in 1969. The very start of the history was Masan Normal School, which is similar to that of YNU, that is, Yokohama Normal School. At present, CWNU is organized with a wide range of colleges and graduate schools, the fortified humanities, social sciences, natural sciences, and arts. YNU has signed to the academic exchange agreement with CWNU since February of 2013.
At the President's Office, the delegates were welcomed by President SUZUKI Kunio, Vice President YAMADA Hitoshi, and other faculty members who have deeply committed with CWNU. Graduate schools of engineering of the two universities have just signed to the Agreement to the Joint Administration of the Double-Degree Program and the two presidents have a deep acquaintance each other, so the discussions went on in a warn atmosphere from the start to the end.
The visit planned around lunch time for convenience to the both universities, the discussions were also set as a luncheon meeting. Attendees had an animated discussion mutually about enrichment and development of the double-degree program as well as further reinforcement of cooperation and expansion of interchange.