The Mizuki (Moon Viewing) Party 2014 was Held
The Mizuki (Moon Viewing) Party 2014 was Held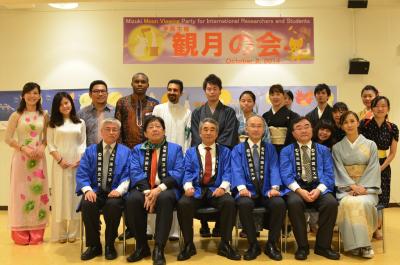 The Mizuki (Moon Viewing) Party 2014 was held at Renga-kan, Cafeteria I on Thursday, October 4th, 2014 gathering over 350 international students, researchers, faculty members, administrative staff and Japanese students.
This yearly event, hosted by YNU President is aimed to foster closer links between Japanese faculty, students, administrative staff and international community of students and researchers at YNU.
The party started with a welcome speech by President Kunio Suzuki, followed by a toast given by Vice President Shuji Mizoguchi.
The highlights of the party were traditional arts performed by Japanese and international students. This year, "Minken" (Japanese folklore club) danced the Hanagasa-odori (Japanese dance) and played Wadaiko (Japanese drums), twelve Vietnamese students performed a traditional bamboo dance.
In addition, Professor Yayoi Satsumoto and her students from the College of Education and Human Sciences made an exciting presentation about various kinds of kimono.
There was a short introduction of the international students who were wearing national costumes. Then, lots of participants enjoyed taking photos with the YNU President in a happi coat.
The party ended with a closing speech by Vice-President Hitoshi Yamada. We hope that all the participants enjoyed the variety of food, meeting friends and chatting with new people.