YNU Honorary Doctorate Was Conferred to President Tran Van Nam, University of Da Nang
YNU Honorary Doctorate Was Conferred to President Tran Van Nam, University of Da Nang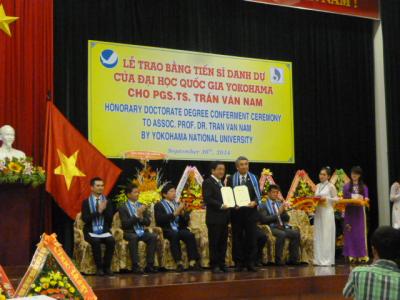 On Tuesday, September 16, 2014, President SUZUKI Kunio and YNU delegation to Viet Nam, including Vice-President MIZOGUCHI Shuji and YAMADA Hitoshi visited the University of Da Nang (UD), to perform YNU honorary doctorate degree conferment ceremony to UD President Tran Van Nam. Many guests attended the ceremony and also lots of the local mass-media reported it. The national flags of Japan and Viet Nam were raised at the UD Hall, decorated with many flowers, with full of the attendees, to make the atmosphere of the ceremony more excited.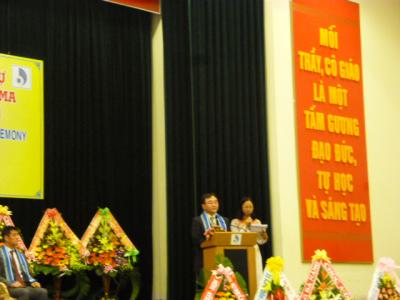 First, Vice President Yamada made introductions on President Nam's contribution to research and education of YNU. President Nam facilitated research collaboration and international exchanges with YNU since he used to be Rector of Da Nang University of Technology. His promotion to the president of UD enabled YNU to sign the academic exchange agreement with UD and also establish YNU Da Nang Branch Office, the first oversea site, of course with his great support. Next, President Suzuki conferred the degree of honorary doctor and also the commemorative shield to President Nam. President Suzuki gave a congratulatory address, including the history of exchanges between YNU and UD. He mentioned that it is important for the both universities to have a stronger relationship and closer partnership each other as the unparalleled site of collaborative research and exchange activities between Viet Nam and Japan to aim university globalization, to conclude his address with his request to President Nam to support such activities more in the future. Then President Nam gave words of gratitude to conferment of YNU honorary doctorate degree as the first citizen of Viet Nam and at the same time, it was not only the personal honor but also an honor of UD itself. Furthermore, he expressed his will that he would make efforts to reinforcement of relationship not only between YNU and UD but also Yokohama and Da Nang, as well as Japan and Viet Nam.
After the ceremony, YNU held a banquet to celebrate conferment and also for interchanges between Japan and Viet Nam by involvement of many guests and related people.