Dalian University of Technology (China) Visited YNU
Dalian University of Technology (China) Visited YNU
On Friday, September 12, 2014, Vice President LI Junjie and other 3 faculties & administrative staff from Dalian University of Technology (DUT, China) made a courtesy visit to YNU.
DUT is an important partner university to have had a lot of exchange performance with both levels of academic and student exchanges. The delegations of DUT took the opportunity of visiting Japan to participate in the exhibitions to "Innovation Japan 2014," hosted by JST (Japan Science and Technology Agency), to offer a request to YNU to have discussions on the current situations of YNU in the industry-university collaboration and student exchanges.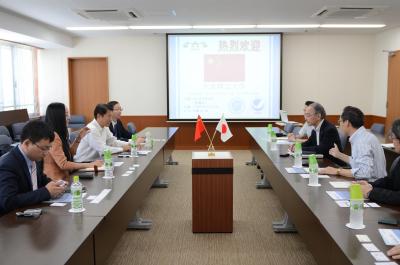 The meeting was held at the Conference Room No.2 of the Administrative Bureau for Executive Director & Vice-President KOKUBUN Yasuo and other 6 faculties and administrative staff to welcome them. YNU Information Technology Service Center Professor XU Haoyuan and DUT administrative staff Ms.QU Yuan played as a translator for the Executive Director Kokubun to give a welcome address, for the both universities to give a presentation to introduce the current situations to each other, and all the attendees to have active discussions in a friendly atmosphere.
After the meeting, the delegations of DUT made a campus tour and then had another meeting to have discussions on student exchanges. They are performed every year with DUT and further development is expected.