Viet Nam National University, Hanoi (Viet Nam) Visited YNU
Viet Nam National University, Hanoi (Viet Nam) Visited YNU
On Thursday, November 6, 2014, Vice President Nguyen Hoang Hai, Director of Academic Affairs Professor Nguyen Dinh Duc, and Dr. Phan Chi Anh (YNU alumnus) from Viet Nam National University, Hanoi (Hereafter VNU, Viet Nam) visit YNU.
VNU is a national university of the country, which is directly supervised by prime minister, whereas other national universities are by the Ministry of Education and Training, Viet Nam (MOET). They visited YNU this time to have a discussion on research collaboration in the field of engineering and also a meeting for explanations and collaboration as for the Vietnam- Japan University Project.
People from VNU attended the lunch meeting at the Meeting Room No.2, Administration Bureau. Two Executive Director and Vice Presidents of Professor MIZOGUCHI Shuji and Professor YAMADA Hitoshi, Dean of College of Business Administration Professor NAKAMRUA Hiroyuki, Faculty of International Social Sciences Professor MATSUI Yoshiki, Manager International Office Ms. ITO Yoko and Subsection Manager Mr. IDE Kuninobu also from International Office attended the meeting as YNU representatives. Two students from Viet Nam to YNU, that is, Ms. Nguyen Thi Lan Binh (Graduate School of Environment & Information Sciences) and Mr. Mai Xuan Canh (College of Engineering Science) helped translation between Vietnamese and Japanese.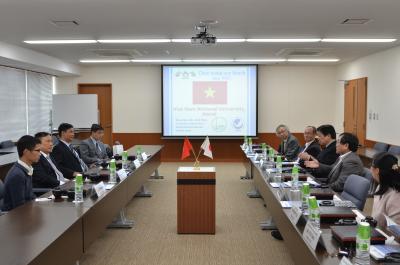 In the meeting, the broad and deep relationship between Viet Nam and YNU and the current situations on exchanges with Vietnamese students were introduced, and then opinions were exchanged on facilitation of exchanges and also the scheme of Vietnam-Japan University. All the communication involved interpretation by the Vietnamese students, and moreover, Ms. Nguyen Hue Minh, a research student from the very VNU participated into the meeting at the end of the meeting. The young generation from Viet Nam, with the warm atmosphere, supported the meeting.