The University of Lampung (Indonesia) Visited YNU
The University of Lampung (Indonesia) Visited YNU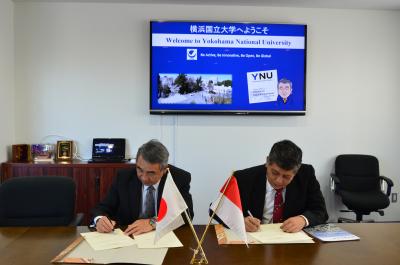 On Thursday, November 27, 2014, Vice Rector John Hendri and other 3 faculty and administrative staff from the University of Lampung (Hereafter UNILA, Indonesia) visited YNU.
UNILA was established in 1965, at the Province of Lampung, which was located in the south tip of the island of Sumatra, Indonesia. Postgraduate programs have been established since 1999, which is rather recent, however, UNILA has had the academic exchange agreement with YNU in 2009, only in 10 years after that establishment, and continued establishment as an institution of higher education in that area in these recent years. People from UNILA visited YNU to renew the academic exchange agreement and also have a discussion on research collaboration.
They made a courtesy visit at the President's office to be welcomed by President SUZUKI Kunio, two Executive Director and Vice Presidents KOKUBUN Yasuo and YAMADA Hitoshi, Faculty of Environment and Information Sciences Professor FUJIE Koichi, and International Office Manager Ms. ITO Yoko. First, President Suzuki gave his welcome address in Indonesian to start the meeting brightly. News of the both universities and the current status of research collaboration succeeded, and then the representatives of the both gave signatures by turns to the agreement to renew the original academic exchange agreement.
The discussions were in a warm atmosphere from the start to the end, to confirm promotion of collaboration, according to this renewal.