East China Normal University (China) Visited YNU
East China Normal University (China) Visited YNU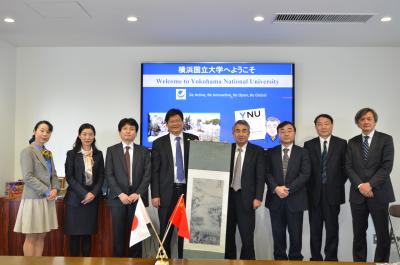 On Friday, December 5th, 2014, the three faculty staff, that is, Dean of Business School Professor Feng Xue-gang, Chief of Department of Economics Professor Li Wei, and Associate Professor in Economics Li Jing (YNU alumna) from East China Normal University (Hereafter ECNU, Shanghai, China) visited YNU.
ECNU and YNU has signed an academic exchange agreement since 2000 and continued making efforts to promote research collaboration and develop people of talent between the two universities. ECNU Business School and YNU College of Economics have developed a double-degrees program in the recent years between them for undergraduate students, to enable them to enroll the regular education program of the partner university and to be awarded with a degree from each university. ECNU people visited YNU to sign the agreement of the program.
They visited the President's Office before attending the signing ceremony, to make a courtesy visit to President SUZUKI Kunio. Executive Director and Vice President YAMADA Hitoshi, Dean of College of Economics ISHIYAMA Yukihiko, Faculty of International Social Sciences Professor HASEBE Yuichi and KIZAKI Midori, and International Office Manager Ms. ITO Yoko welcomed them. Gratitude to the efforts to establish the double-degrees program for undergraduate students was expressed by both sides in a warm atmosphere. Expansion of application to other schools and its time was also referred in the discussion.
Active trial to enroll such a program by the students is highly welcomed.