Japan Gourmet Experience by Gurunavi & Kabuki Tour
for International Students
Japan Gourmet Experience by Gurunavi & Kabuki Tour
for International Students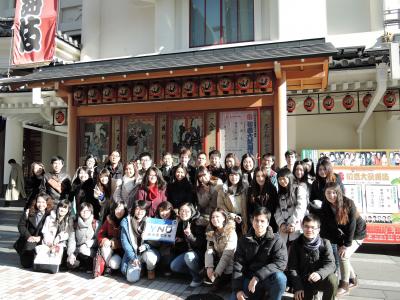 A "Japan Gurunavi & Kabuki Tour for International Students" organized by the YNU International Office was held on January 16th, 2015. This time 36 international students who participated in this one day tour had a chance to see the performance at Kabuki-za Theater and enjoy Japanese Gourmet Experience by Gurunavi. 
Professor Yu Kawazoe of the College of Education and Human Science lectured on the history of Kabuki performance and stories of show which were programs this time as "Kinkaku-ji", "Kumono hyoushimai", and "Ippongatana dohyouiri" for the participants so that they could fully enjoy the performance on the following day.With well prepared of prior learning, tours on the day of winter under the sunny blue sky, departed from YNU campus for the bus trip at nine. On the way, Professor Andrade of International Strategy Organization reviewed previous lectures on Kabuki and explanations on how to use chopsticks for the Japanese Gourmet experience. Soon they arrived at the Kabuk-iza Theater while participations shared self-introduction on the bus. 
The participants who arrived slightly early took a photograph while enjoying unique atmosphere peculiar to Kabuki-za Theater and looking around the gift shop.
As New Year season, people dressed kimono was standing out in the audience seat, and they enjoyed the show with an earphone guide and appreciated "Kotobuki hatsuharu ookabuki". They could follow the story line of Kabuki, though the words of Kabuki were very hard to understand for them, with the explanation of the prior learning and earphone guide assistance. It brought testimonials from the participants for a good opportunity to learn the traditional Japanese culture.

The party moved to Japanese restaurant "IRAKA" in Ginza for the Japanese food experience that was a joint planning with "Gurunavi" afterwards. The participants were showing interests in the materials of Dashi (Japanese clear soup stock) on the table at first. They were not able to hide the expression of the question of "Really? Eat this?" Soon they started to challenge to take the Dashi after the chef master explained how to cook Dashi, the basis of Japanese cuisine, with kelp and dried bonito shavings. Soon after that, it was met in the room by delicious smell and the steam of Dashi, and was full of smiles and the laughter of the satisfaction of the participants. They enjoyed Yosenabe (pot of chicken, seafood and vegetables) and finished up with Zosui, adding rice in the rest of soup as rice gruel to enjoy the richness of broth as concluded.
It became the significant visit tour for the international students to know traditional culture in Japan and the profundity of the Japanese food.