Latin American Universities Visited YNU
Latin American Universities Visited YNU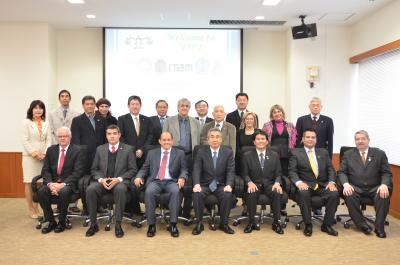 On Tuesday, January, 27th, 2015, 17 people of faculty members & administrative staff and related people from Colombia, Paraguay, Brazil, and Mexico visited YNU.
YNU International Strategy Organization would hold the international symposium "Collaboration with Latin America Based on Yokohama –Spin a Dream Together- "Esperanza"" on Wednesday of January 28, the very following day to visit the above mentioned people as a speaker/ panelist or an participant. The invited people came to YNU well without any sign of fatigue because of the long flight from Latin America, for example, Professor Toshi-ichi Tachibana, University of São Paulo and YNU Professor Emeritus.
The courtesy visit was held at the Conference No.1, Administrative Bureau, as a luncheon-meeting with Japanese-style lunch boxes. President SUZUKI Kunio, all the Executive Directors, and the faculty members & administrative staff who were in charge of hosting & conducting the international symposium attended to exchange greetings with the people come from so far away. Languages for the communication were Japanese and Spanish to discuss matters through a professional interpreter. It was formal and ceremonious opportunity of courtesy visit, however, individual participant offered will to promote collaboration and exchanges among universities one by one, as well as how to facilitate the international symposium on the following day, in the cheerful and friendly atmosphere of Latin America.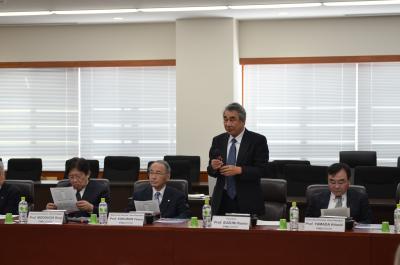 The visitors were as follows (Random order):
Professor Ivan Reinald Salmient Ordosgoitia, National University of Colombia/ Ms. Maria Auxiliadora Lamadrid Barrios (Wife of Prof. Ordosgoitia)/ Ms. Yuki Sakamoto, Coordinator & Interpreter at Colombia/ Professor Julio Renán Paniagua Alcaraz, Dean of Graduate School of National University of Asunción, Paraguay/ Mr. Fredy Ramón Insaurralde Gavilàn, Chief of International Bureau, UNA/ Mr. Nestor Gerardo Molinas Villalba, Faculty of Agricultural Sciences and Staff of International Office, UNA/ Professor Pablo Martinez Acosta, Rector of National University of Caaguazu/ Professor Dionisio Ortega, Rector of University of Nihon Gakko, Paraguay/ Professor Herme Linda Alvarenga de Ortega, Vice Rector of University of Nihon Gakko/ Ms. Mirian Eladia Insfran de Gonzalez, Senior Manager of Promotion of Inter-University Collaboration/ Ms. Liliana Narumi Takahashi Kintaka, Coordinator & Interpreter at Paraguay/ Professor Toshiichi Tachibana, University of São Paulo, Brazil (YNU Professor Emeritus)/ Professor Raul Machado Neto, Vice Rector of USP/ Professor Kazuo Nishimoto, USP/ Professor André Riyuiti Hirakawa, USP/ Professor Josê Roberto Castilho Piqueira, USP/ Associate Professor Ulises Granados Quiroz, Mexico Autonomous Institute of Technology.