Universiti Utara Malaysia (Malaysia) Visited YNU
Universiti Utara Malaysia (Malaysia) Visited YNU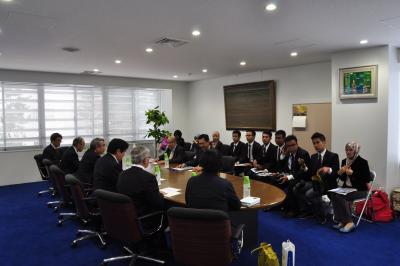 On Thursday, October 2, 2014, Assoc. Prof. Dr. Abdul Malek Abdul Karim (Deputy Vice Chancellor for Students Affairs & Alumni), and Assoc. Prof. Dr. Sany Sanuri Mohd Mokhtar (Dean, Student Development & Alumni, College of Business), and 10 students from Universiti Utara Malaysia (UUM hereafter, Malaysia) visited YNU.
UUM is one of the YNU's partner universities and a student group from YNU visited for a short-term training in March, 2014. Counter to it, UUM students came to Japan this time to visit YNU for a short-term training. Here they followed the training schedule such as a reception held by College of Business Administration, visit tours to several places along with some YNU students, attendance to lectures on Japanese society or culture, and so on.
They visited the President's Office, to be welcomed by President SUZUKI, YNU Executive Directors, and faculty members to be in charge of attending them. The meeting was planned as the first event of the day for the President, however, the UUM students got on the subway backward to be late a little bit; they ran and went up for the President's Office and some of them lost his/ her breath.
The meeting started in the friendly atmosphere. President Suzuki gave a welcoming address and UUM students made his/ has self introduction. In the evening of the day the President hold "Moon-Viewing Party for Foreign Researchers and Students;" and the delegate members from UUM took part in the party, to make some dancing performance with motives from Malaysia.
YNU students to participate in such an exchange program are quite encouraged and welcomed.