Shandong University (China) Visited YNU
Shandong University (China) Visited YNU
On Friday, December 5th, 2014, Prof. Hu Jinyan, General Manager of Academic Affairs and other 4 faculty & administrative staff from Shandong University (Hereafter SDU, China) visited YNU.
In the past September, the YNU delegates headed by President Suzuki visited SU to have a discussion toward signing an agreement on academic & student exchanges along with President ZHANG Rong, College of Economics Associate Professor ZHANG Yan (YNU alumna), and other faculty & administrative staff of SDU. Counter to it, SDU visited YNU to encourage exchanges and cooperation by having a discussion with individual faculty member of a specific research field, as well as the executives of YNU.
The delegate members visited the President's Office. People exchanged greetings after the long time since the past September and also expressed gratitude each other on the mutual visits. Assoc. Prof. Zhang acted as a translator and the discussion started in the friendly atmosphere.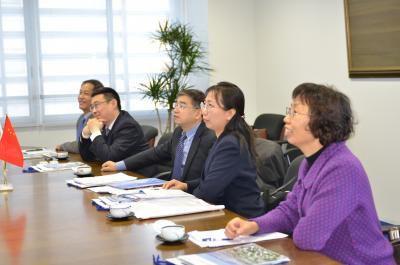 In the discussion, Executive Director & Vice President YAMADA Hitoshi gave a new presentation on YNU introduction and the SDU delegates paid attention to it interestedly. The SDU delegates made an oral introduction on the university, and then people exchanged positive opinions on possibilities and the ways of exchanges in the future.
YNU alumni often support and help having a good relationship with overseas universities.