Shandong University (China) Visited YNU
Shandong University (China) Visited YNU
On Thursday, April 23, 2015, Vice-President Zijiang Chen, Shandong University (Hereafter SU, China) and other 3 faculty members & administrative staff visited YNU.
SU is a new partner university with which an academic exchange agreement was signed in the last March, after mutual visits and discussions. They visited YNU to have meetings to focus on potential academic fields to be in cooperation and collaboration, and also to discuss on signing a new agreement between faculties.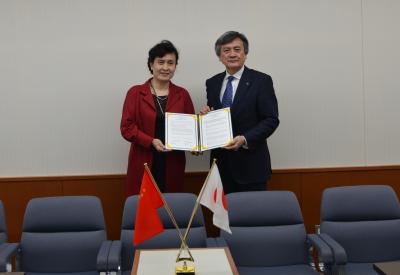 The new YNU President Yuichi Hasebe, a new Executive Director Fumihiko Nakamura, and other faculty members and administrative staff welcomed the delegation at Conference Room No.2, Administration Bureau. The discussion started with mutual greetings, followed by an introduction by SU on their new campus to open soon, along with eager invitation to President Hasebe. YNU made introductions on Center for Future Medical Social Infrastructure Based on Information Communications Technology (MICT) and other facilities for research and education to exchange positive opinions on the future cooperation and collaboration.
After that, SU visited the satellite lab of MICT (15th Floor, Yokohama Mitsui Building) to see Professor of Faculty of Engineering Ryuji Kohno, Director of MICT, and have a practical introduction on their research, and had a meeting to seek a possibility of research collaboration, and so on.
YNU is, led by the new president, on the way to organize a new relationship to partner universities overseas.