Peking University (China) Visited YNU
Peking University (China) Visited YNU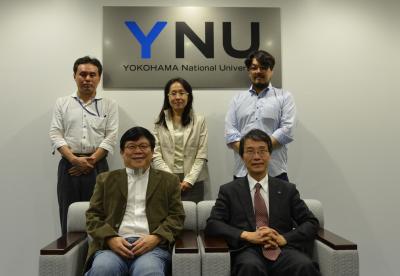 On Friday of May 22, 2015, Assistant Dean for International Relations, College of Engineering Pinchou Han, Peking University (Hereafter PU, China), visited YNU.
PU is one of the representative universities of China to have signed a triangle academic exchange agreement with YNU and also Shihezi University (Xinjiang Uyghur Autonomous Region). Exchanges have been frequent especially in the field of engineering, so one of the involved PU faculty members called on Executive Director and Vice-President Shin Morishita, one of the newly assigned executives in April.
Assistant Dean Han visited the Executive Director's room, to be welcomed by Executive Director Morishita and other faculty members who had been involved in the collaborative research. In the discussion, Prof. Han gave a congratulatory address to Prof. Morishita who had been in cooperation from before, who responded with gratitude. The recent situations of research were also shared for them to exchange opinions on the future cooperation and collaboration.
The academic exchange and research collaboration between universities are much supported by personal friendship, too.