YNU participated in 'Study in Japan Fair'(Taiwan)
YNU participated in 'Study in Japan Fair'(Taiwan)
YNU participated in 'Study in Japan Fair' (Taiwan) organized by Japan Student Services Organization (JASSO), held on July 18th in Kaohsiung, and the 19th in Taipei.
Executive Director and Vice-Principal Fumihiko Nakamura, Professor of International Strategy Organization Chie Yomota, Section Chief of International Planning Section Eiji Kotani, and Administrative Staff of Public Relations Office, Masashi Daimaruya participated in the events.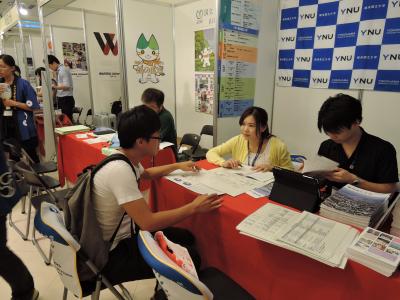 More than 160 institutions set up booths at the fair. In Kaohsiung, representatives of YNU introduced the university to about 50 visitors while about 150 in Taipei. They responded to a variety of questions including both graduate schools and undergraduate admissions including all-English programs such as YCCS, student life in Japan, and scholarships.


Many Taiwanese students asked questions in fluent Japanese.
It was a great opportunity for YNU to understand how passionate they were to learn Japanese, and their strong hopes to study in Japan.
We were pleased to introduce our university to those highly motivated students.