State Minister, Minister of Education of Ethiopia, and Addis Ababa Science Technology University (Ethiopia) Visited YNU
State Minister, Minister of Education of Ethiopia, and Addis Ababa Science Technology University (Ethiopia) Visited YNU
On Thursday of July 30th, 2015, delegates of 5 people from Federal Democratic Republic of Ethiopia, including Dr. Kaba Urgessa, State Minister, Ministry of Education, Dr. Markos Tekle Rike, Ambassador Extraordinary and Plenipotentiary to Japan, and Dr. Nurelegne Tefera, President of Addis Ababa Science Technology University visited YNU.
At the President's Office, President Yuichi Hasebe, Executive Director for International Affairs Fumihiko Nakamura, Faculty of International Social Sciences Professor Keiichi Yamazaki, and International Office Manager Ms. Yoko Ito welcomed the delegation. President Hasebe gave the first welcome address that he would make sure to encourage further internationalization as the newly assigned president in this April and deepen and strengthen relationship to Latin American and African countries to achieve big development in the near future as well as Asian countries which had been connected by strong ties in economy. Then Executive Director Nakamura made introductions on YNU education programs such as "Doctor's Degree Program for University Faculty Members in Newly Developing Countries" and Professor Yamazaki gave information on enrolment of students with "ABE Initiative," or "African Business Education Initiative for the Youth".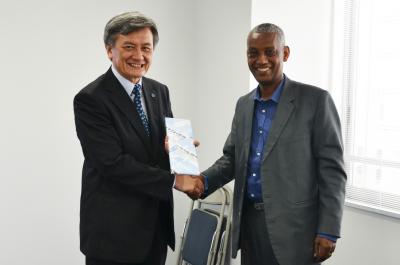 State Minister Dr. Kaba Urgessa mentioned the future encouragement of research collaboration and faculty members, students, administrative staff exchanges between Ethiopian and Japanese universities and proposed a program to dispatch faculty members in the field of engineering to Ethiopia, and people exchanged opinions practically. With this visit, further development of exchanges with Ethiopian institutions up to a new stage is expected.