Da Nang University of Science and Technology (Viet Nam) Visited YNU
Da Nang University of Science and Technology (Viet Nam) Visited YNU
On Tuesday, August 4th, Dean of Faculty of Environment Associate Professor Tran Van Quang, Da Nang University of Science and Technology (Hereafter DUT, Viet Nam), and Dr. Le Anh Tuan, Branch Manager of YNU Da Nang Branch Office, visited YNU. The delegates came to Japan for YNU International Symposium 2015 "Water Environment Management –Advanced wastewater treatment, WET and ecological risk assessment," held on August 3rd, the previous day, as the representatives from Viet Nam.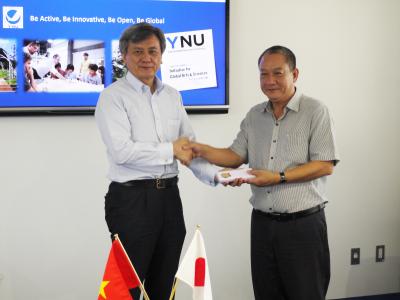 Da Nang University of Science and Technology is one of the most important institutions of higher education in Viet Nam, in the field of engineering established in 1975, affiliated to The University of Da Nang, which is a partner university of YNU.
At the President's Office, President Yuichi Hasebe, Executive Director for International Affairs Fumihiko Nakamura, Faculty of Environment and Information Sciences Professor Shigeki Masunaga, and International Office Manager Ms. Yoko Ito welcomed the delegates. The discussion was in a friendly atmosphere from the start to the end, along with faculties from DUT, YNU had had a lot of interchanges so far.
In the discussion, the attendees confirmed to broaden the academic fields to have interchanges and strengthen the cooperative relationship more in the future. Further advance of collaboration between DUT and YNU is expected.