President Hasebe and the delegates from YNU paid
a courtesy call to Shanghai Jiao Tong University(SJTU)

President Hasebe and the delegates from YNU paid
a courtesy call to Shanghai Jiao Tong University(SJTU)

On July 21, 2015, YNU President Yuichi Hasebe, Executive Director of International Office and Public Relations Fumihiko Nakamura, Executive Advisor to the President Kazuyuki Hiratsuka, and Deputy Manager of International Office Hiroshi Inoue paid a courtesy call to Shanghai Jiao Tong University (SJTU).
For over 30 years YNU has been engaging in academic exchanges with SJTU since YNU and SJTU signed the Inter-University Agreement in 1982. In addition, the agreement on the double degree program was concluded in 2012, and every year both universities send 10 students to each university for short-term study programs.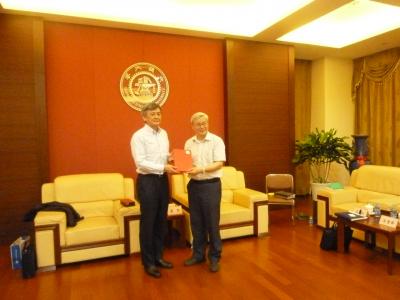 SJTU Vice-President WU-Dan welcomed the YNU delegates, along with Professor MA-Ning, who graduated from YNU, and Professor WANG-Xue Feng.
YNU President Hasebe extended his gratitude to SJTU Vice-President WU for Professor MA's assuming the post of Distinguished YNU Professor in Safety of Marine Structures and Environmental Protection of Institute of Advanced Sciences established by YNU in 2014. .
The delegates also discussed joint research over a variety of field mainly in the future marine science research.
The SJTU campus is 4 kilometer wide from one side to the other, looking as if research building, and lecture building are scattered around the huge park.
After a courtesy call, Vice President WU showed the YNU delegates around a new library, and a swimming pool with gym. The YNU delegates were very impressed to see the gym and swimming pool widely available to local residents.
This courtesy call was very fruitful for YNU as YNU discussed with SJTU on promoting more exchanges in the near future.