President Yuichi Hasebe and delegates from YNU attended the ceremony of the 15th anniversary of the foundation of Shine Mongol High School
President Yuichi Hasebe and delegates from YNU attended the ceremony of the 15th anniversary of the foundation of Shine Mongol High School
On Oct. 5th 2015, President Yuichi Hasebe, Executive Advisor to the President Kazuyuki Hiratsuka, and General Affair Section Chief Makoto Matsuo attended the ceremony of the 15th anniversary of the foundation of Shine Mongol High School (SMHS) in Ulan Bator, Mongolia.
SMHS was established with an assistance of Japanese volunteers in 2000, and subsequently its middle school, elementary school, New Mongol Technique Engineering College, and New Mongol Institute of Technology were established.
In 2014, all the schools were combined into New Mongol Academy (NMA), and it took a first step toward its new history.
Last year, YNU signed the Inter-University Exchange Agreement with New Mongol Institute of Technology (NMIT), and the two universities will proceed further with academic exchanges.
Around 80 people attended the commemorative ceremony. Among those were representatives from universities, and high schools in Japan, and Japanese volunteer groups that helped establish NMHS.
The ceremony started with congratulatory addresses from Minister for Education and Science of Mongolia, and guests from scholarship foundations.
After the addresses, Japanese volunteer groups donated about 600 books to NMA.
In the second part of the ceremony NMHS students performed high quality singing, and dancing on the stage. The ceremony ended with a great success.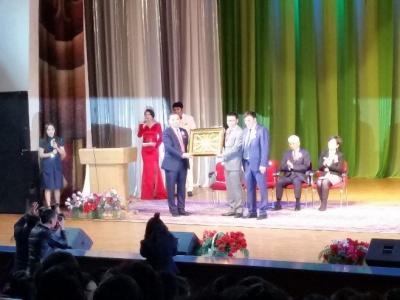 Following the ceremony, around 500 guests including NMHS alumni, and the ceremony attendees gathered at the party. Representing Japanese universities officials, YNU President Hasebe made a congratulatory speech, 'We'd like to take this opportunity to promote collaborations on researches to enhance sustainable development and on fostering human resources in Mongolia.'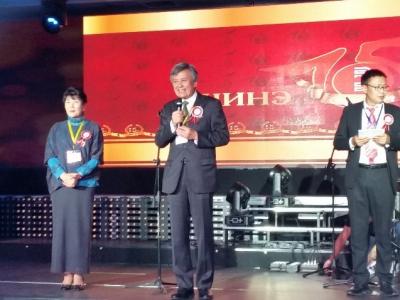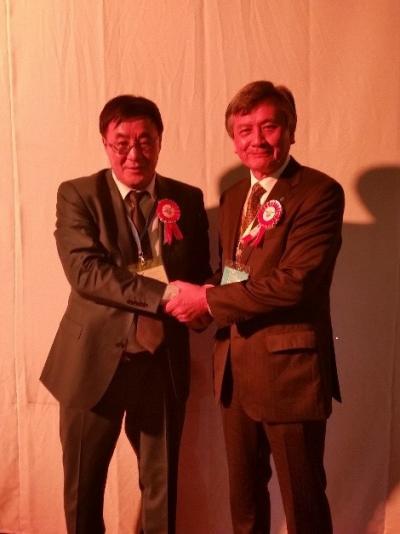 In the morning of Oct. 5th, prior to the ceremony, President Hasebe visited NMIT, and NMIT President Ganzolik explained President Hasebe about the university.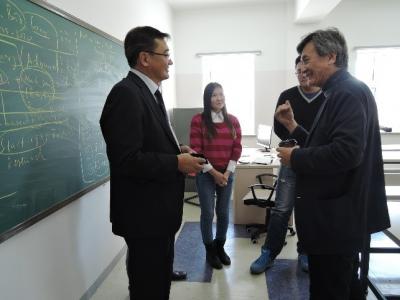 On Oct. 6th, a reunion party was held for YNU representatives and YNU Mongolian alumni. 15 alumni cordially participated in the party despite the short notice.
All the YNU graduates shared their memories of YNU, and exchanged their latest news including the alumni actively involved in the Mongolian society.
Some of the alumni expressed their encouraging thoughts that they would like to continue to help improve the YNU brand name.