YNU held 2015 'Mizuki' (Moon Viewing) Party for international researchers and students hosted by YNU President
YNU held 2015 'Mizuki' (Moon Viewing) Party for international researchers and students hosted by YNU President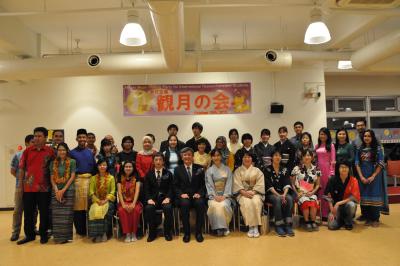 On Oct. 15th, YNU held '2015 Mizuki' (Moon Viewing) Party for international researchers and students hosted by YNU President at Cafeteria I on YNU campus. Every year this event invites international researchers and students enrolled in YNU, aiming to promote exchanges and friendship between Japanese faculty members and students.
'Mizuki' party began in a lively manner with President Hasebe's warm greetings followed by a toast of Executive Advisor to President Kazuyuki Hiratsuka.
The participants enjoyed conversing each other, and eating a variety of dishes while great performances were being presented on the stage.
A Chinese student played Chinese lute followed by four students from Myanmar danced to the country's ethnic music. Then Japanese students from Folk Music Study Group Choir sang folk songs from Shiga Prefecture called 'Minakuchi bayashi', 'Arama' from Aomori Prefecture, and 'Kiyari Daiko' originated in Tokyo.
After the ethnic performances, Professor Satsumoto of College of Education and Human Sciences, and laboratory students presented a kimono show that drew a big round of applause.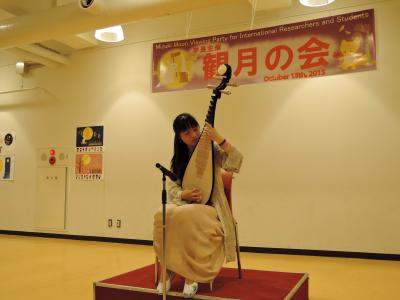 What attracted many participants during the party was an event that introduced ethnic clothes, and taking a picture with President Hasebe in which participants wore 'Happi' coats. Flashes of cameras could be seen everywhere in the hall.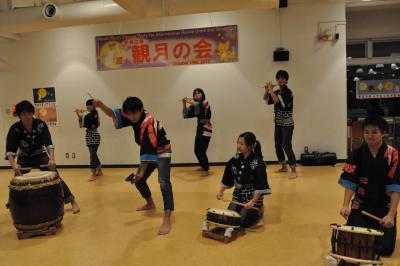 Lastly Executive Director of International Affairs Fumihiko Nakamura gave a closing address, and the party ended with a great success.
With over 300 people in attendance, the party was filled with international atmosphere.

*The followings are the list of groups that attended the party. We cordially appreciate their continuing support and generosity toward international researchers and students at YNU.

- Rotary club of Yokohama South
- Yokohama Nanryo Rotary Club
- Friendship Association for International Students and Japanese Volunteers
- Kanagawa Systematized Goodwill Guide Club
- Mitsui Volunteer Network Center
- JICA (Japan International Cooperation Agency)
- YNU University CO-OP
- Ichi Corporation
- Minato Yokohama Kaizo Shimin Kaigi
- Yokohama Citizen's Plaza