President Hasebe Attended Viet Nam - Japan University Presidents' Conference
President Hasebe Attended Viet Nam - Japan University Presidents' Conference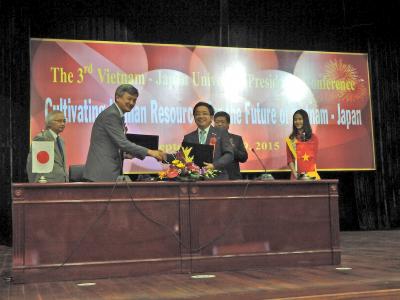 On September 28-29 (Monday – Tuesday) of 2015, President Yuichi Hasebe, Professor Yoshiki Matsui (Faculty of International Social Sciences) and International Office Manager Ms. Yoko Ito participated in Viet Nam - Japan University Presidents' Conference which was held in Da Nang (Viet Nam).
This conference was held as its third event hosted by the University of Da Nang (UD), the partner university of YNU, and co-worked by Kyoto University as the organizer of representatives from Japanese universities, with participation of approximately 200 people from 44 universities in Viet Nam and 28 universities in Japan, along with attendance of delegates from Japanese Embassy in Viet Nam, Japan Society of the Promotion of Science (JSPS), Japan International Cooperation Agency (JICA), and The Japan Association of National Universities (JANU), supported by Ministry of Education and Training Viet Nam (MOET) and Ministry of Education, Culture, Sports, Science and Technology Japan (MEXT). "Cultivating Human Resources for the Future of Vietnam and Japan" was set as the general theme and participated universities reported and proposed on various approaches and efforts focused on "Educational Cooperation and Quality Assurance" and "Research Collaboration and Utilizing Research Outcomes for the Benefit of Society" between Japanese and Vietnamese universities.
UD and YNU held a ceremony to sign "Memorandum of Understanding on Cooperation to Establish Joint Supervision Programs" each other, at the plenary session on the first day, to be highly interested by the attendees.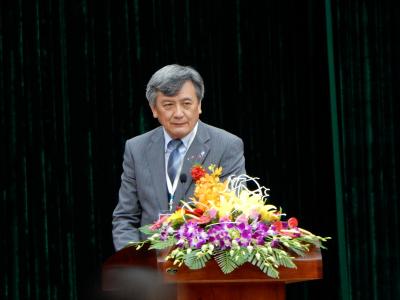 On the second day, President Hasebe appeared on stage as a panelist, to report the relationship between Viet Nam and YNU on the basis of the exchange results along with the partner universities so far and also propose that the pursuit of innovation in the new era of globalization required promotional approaches to the double-degree programs based on quality assurance of university education and encouragement of exchanges and cooperation with local governments and enterprises on the fundamentals of research exchanges such as research collaboration between the mutual academic staff.
During the two days stay at Da Nang, President Hasebe and other YNU delegates made good use of their spare moments by visiting YNU Da Nang Branch Office established in the headquarter of UD, making a courtesy visit to Da Nang University of Economics, having a meeting with the University of Economics and Business - Vietnam National University, Hanoi, to develop brisk activities for the further propulsion of exchanges.