YNU signed an Agreement in Setting Up Its International Branch with University of Oulu (Finland)
YNU signed an Agreement in Setting Up Its International Branch with University of Oulu (Finland)
On Tuesday, November 17, 2015, YNU signed an agreement with the University of Oulu (OYO, Finland) in setting up its international branch on the campus of OYO. First YNU Center for Future Medical Social Infrastructure Based on Information Communications Technology (MICT) and OYO Centre for Wireless Communication have signed an academic exchange agreement since 2008 to be developed to an agreement between universities so that research collaboration mainly by Faculty of Engineering and also student exchanges between the mutual universities. On this opportunity, President Yuichi Hasebe, Executive Director & Vice President Fumihiko Nakamura, MICT Director Ryuji Kohno (Faculty of Engineering Professor), Faculty of Environment & Information Sciences Lecturer Satoru Endo, and Administrative Staff of Engineering Science Administration Office Mr. Takuma Takano from YNU visited OYO to hold a signing ceremony along with OYO Rector Jouko Niinimäki and other related faculties.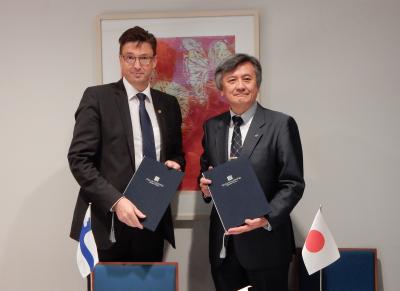 President Hasebe gave an address after signing, "We do expect setting up of this international branch facilitates and activates the phases of education and research given by the both universities." Rector Niinimäki said, "I am convinced that this scheme well develops the cooperative relationship between the both universities and it also will play a role of the firm link between Japan even Europe."

YNU Oulu International Branch is and will be expected to become a powerful and influential hub of cooperation and collaboration between YNU and OYO as well as Japan and Finland and also Europe.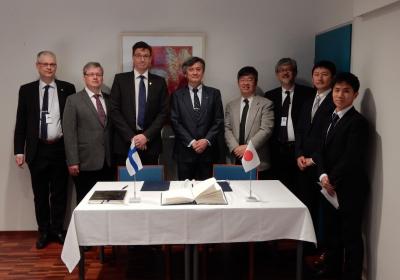 The University of Oulu website also reports this setting up of YNU International Branch.
Yokohama National University sets up office in the University of Oulu