YNU students and 'The 7th Japanese Cultural Training Group' of DUT participated in the exchange event at YNU
YNU students and 'The 7th Japanese Cultural Training Group' of DUT participated in the exchange event at YNU
28 students representing their colleges and graduate schools of Dalian University of Technology (DUT) from China, which YNU has an academic agreement with, visited YNU on Nov. 26, 2015. This visit was part of the 7th Japanese Cultural Training Group Program of DUT, which lasted 10 days. Earlier in the day, the DUT group arrived at the YNU campus, and started an exchange event at the large conference room in College of Economics.
Head of YNU International Strategy Section, Hiromi Kabashima presented a welcome speech followed by Vice Director of Graduate Affaires Office of DUT Guo Yongxin's speech.
After the two universities exchanging their commemorative gifts, members of YNU International Student Volunteer introduced the DUT students about YNU, and so did DUT students about the Chinese university for YNU students.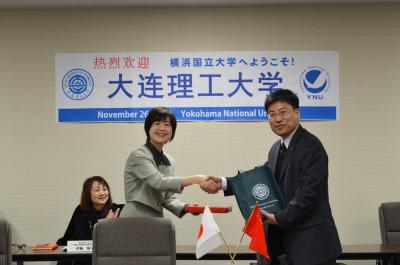 While an orientation was underway, 16 YNU students were gathering at the conference room. The students of DUT and YNU were divided into 4 groups, and discussed over the topic of 'Japan-China, different cultural experience'. Each group had a short yet productive discussions in English, Chinese, and Japanese.
After the morning session, YNU students showed DUT students around the campus on the way to Cafeteria II. The DUT students enjoyed not only delicious lunch, but its atmosphere in the cafeteria.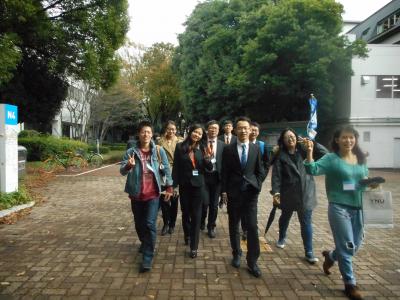 After coming back to the conference room from lunch, all the participants took group pictures. Then a few students per group presented the result of the discussions, and shared their thoughts.
DUT students made a presentation in both English and Japanese fluently, demonstrating their strong command of languages as well as high presentation skills.
Following the students' presentation, feedback on the presentations was given by Information Technology Service Center Professor Xu Haoyuan, Graduate School of International Social Science Professor Guo Peijun, Graduate School of Environment and Information Science Professor Naoyoshi Tamura, and Deputy Director of International Office and Office of Hong Kong, Macao, and Taiwan Affairs of DUT Wang Jue. The event ended with an address of Executive Director of International Affairs Fumihiko Nakamura.
In the hope of a future reunion, the students exchanged their contact information even after the event was over. Although the event went by quickly, they were able to enjoy the highly concentrated exchange each other.