Shanghai Jiao Tong University (China) Visited YNU
Shanghai Jiao Tong University (China) Visited YNU
On Thursday, August 27th, 2015, Deputy Director Ning-Ma and Professor Deyu Wang, School of Naval Architecture, Ocean and Civil Engineering of Shanghai Jiao Tong University (SJTU) visited YNU.
SJTU ranks in the top 3 universities in China, and has been under the Inter-University Exchange Agreement with YNU since 1982. In 2012, three Graduate Schools of YNU (Graduate School of Engineering, Graduate School of Environment and Information Sciences, and Graduate School of Urban Innovation) concluded an agreement on the double degree program with Graduate School of SJTU.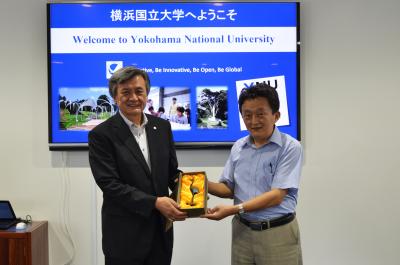 President Yuichi Hasebe along with Executive Director of Research and Evaluation Shin Morishita, Executive Director of International Affairs Fumihiko Nakamura, Division of System Research in Faculty of Engineering Professor Takanori Hino, Professor Makoto Arai, and International Office Manager Ms. Yoko Ito welcomed the delegates from China in the President's office.
In the discussion, the attendees exchanged views on expansion of the double degree program, and joint cooperation mainly focusing on students' education.