Deputy Mayor of Oulu City (Finland) Visited YNU
Deputy Mayor of Oulu City (Finland) Visited YNU
On Wednesday, October 21st, 2015, Deputy Mayor Ms. Kirsti Ylitalo-Katajisto, Social Welfare Services Manager Ms. Sirkka-Lissa, and International Coordinator Ms. Takako Uchida, from the City of Oulu, Finland, visited YNU. The party of Deputy Mayor came to Japan to participate in "ME-BYO Summit Kanagawa 2015 in Hakone" which was held on October 22nd- 23rd.
They visited the President's Office to be welcomed by President Yuichi Hasebe, Executive Director of International Affairs Fumihiko Nakamura, International Office Manager Ms. Yoko Ito, and the staff of Graduate School of Environment and Information Sciences Section, Mr. Takuma Takano. President Hasebe gave a welcome address and then Executive Director Nakamura made a general introduction on YNU's international exchanges.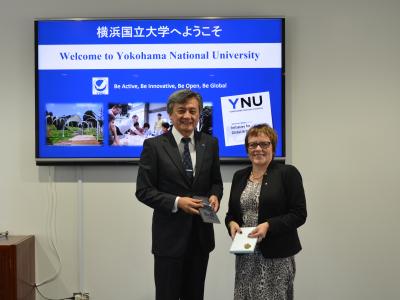 After that, Professor Ryuji Kohno, Director of Center for Future Medical Social Infrastructure Based on Information Communications Technology (MICT), introduced them to visit the Faculty of Engineering. Dean of Faculty of Engineering Hiroshi Fukutomi and MICT Professor Tadashi Shiomi welcomed them. Dean Fukutomi gave a welcome address and then Professor Kohno made a general introduction on MICT. Then the party of Deputy Mayor visited the laboratory of Faculty of Engineering Associate Professor Tomoyuki Shimono. They toured the research facilities and equipment in fascination and asked questions frequently about them to Associate Professor Shimono.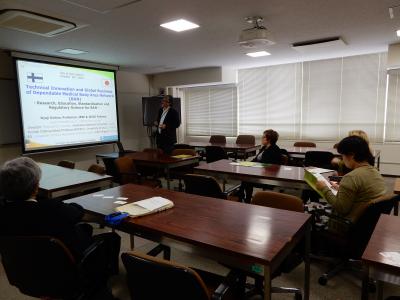 After the lunch, they toured the Second International Week which took place during October 20th (Tue) – 23rd (Fri), attended by International Strategy Organization Associate Professor Hisami Andrade and an international student from the University of Oulu, who had enrolled for JOY Program since this October.

President Hasebe and other 4 staff from YNU would to visit the City of Oulu at the middle of November so they promised to see each other there again.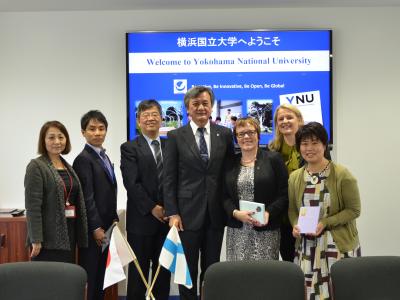 The relationship and cooperation with the City of Oulu are expected to be developed and deepened more.