The University of Oulu (Finland) Visited YNU
The University of Oulu (Finland) Visited YNU
On Friday, November 13th, 2015, Rector Jouko Niinimäki of the University of Oulu (OYO) visited YNU. Since 2008, Center for Future Medical Social Infrastructure Based on Information Communications Technology (MICT), YNU, and Centre for Wireless Communications, OYO, have signed an academic exchange agreement as faculties, to be expanded to one between universities in 2009.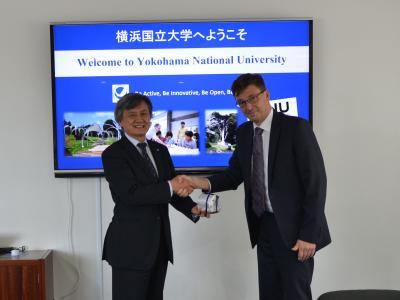 Rector Niinimäki called at the President's Office to be welcomed by President Yuichi Hasebe, Executive Director of International Affairs Fumihiko Nakamura, Director of MICT Ryuji Kohno (Faculty of Engineering Professor), and International Office Manager Ms. Yoko Ito. The topic was the practical way of utilization of YNU International Branch (a hub for international cooperation, research and education) which was to be established in OYO shortly. YNU and OYO have developed many good results in research collaboration mainly between mutual faculties of engineering and on the other hand, mutual student exchanges in the whole range of universities so far. In the discussion, the leaders of the both universities confirmed that cooperation between YNU and OYO should be further developed to the fields of arts and social sciences.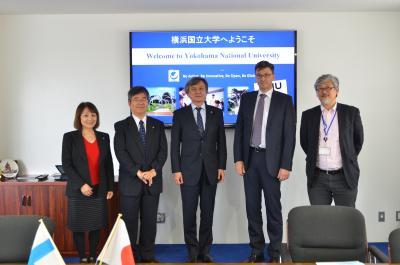 After the visit, Rector Niinimäki made a campus tour introduced by Professor Kohno and also visited International Student Center. He found a scene of pleasant chat between international and Japanese students at the lounge to be interested in setting up of such a space for communication.
Further faculty and student exchanges will be expected with this visit and also establishment of YNU International Branch in the University of Oulu.