University of Science and Technology Beijing (China) Visited YNU
University of Science and Technology Beijing (China) Visited YNU
On Tuesday, December 1st, 2015, Dr. Bo Song, Professor at the Department of Civil Engineering at the University of Science and Technology Beijing (USTB), Mr. Zhiyang Liang, Manager of International Office, and Ms. Jiajia Gao, Instructor at the International Students Office visited YNU. Dr. Song is also a graduate of YNU.
The main purpose of their visit to Japan was to attend the "Japan-China Exchange Meeting for University Education" which was held at Tokyo on December 3rd. The delegates took this opportunity to visit YNU to share opinions on potential exchange programs for researchers and students.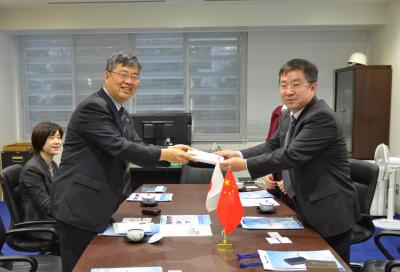 The meeting was held at the Executive Officer's office, and Executive Director of International Affairs and Vice President Fumihiko Nakamura, Director of International Strategy Section Professor Hiromi Kabashima, Information Technology Support Center Professor Haoyuan Xu, and International Office Manager Ms. Yoko Ito welcomed the delegates. During the meeting, both parties exchanged their views on future joint research and student exchange programs to expand the collaboration between USTB and YNU.