Vice-Minister of Protection of the Rights of Women of the Republic of Paraguay, National University of Asunción, and University of Nihon Gakko Visited YNU
Vice-Minister of Protection of the Rights of Women of the Republic of Paraguay, National University of Asunción, and University of Nihon Gakko Visited YNU
On Tuesday, January 26th, 2016, from the Republic of Paraguay, Vice-Minister of Protection of the Rights of Women Estela Eresmilda Sánchez Dávalos, Adjunct Professor Dr. Juan Walberto Caballero Achucarro, National University of Asunción (UNA), and Professor María Amelia Britos Bogado, University of Nihon Gakko (UNG) visited YNU. They came to Japan to give a lecture at "The 2nd Symposium on Latin America: Symbiosis with Risks and Development in Paraguay" to be held on Wednesday, January 27th. YNU has signed an inter-university agreement with UNA since 2012 and with UNG since 2015.
They made a courtesy visit accompanied by a lunch meeting, to be welcomed by President Yuichi Hasebe, Executive Director, Vice-President in International / External Relations Fumihiko Nakamura, Faculty of Urban Innovation Professor Yoko Fujikake and Associate Professor Mihoko Matsuyuki, and Fixed-term Administrative Staff of International Office, Ms. Kumiko Kawachi. In the meeting, highlights of the lectures to be given in the symposium and the individual academic fields were introduced each other, to exchange opinions to identify possible collaboration in the future.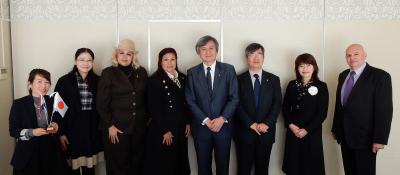 After the courtesy visit to the president and the executive director, the delegates made another courtesy visit to Vice Dean of the Institute of Advanced Sciences (IAS) Koichi Fujie and Dean of Faculty of Urban Innovation Satoru Sadohara. Professor Fujikake, Research Strategy Manager of Institute of Advanced Sciences Kazuyoshi Nanjo, Ms. Kawachi, and Ms. Sara Luz María Mármol Irala who had been studying at YNU from UNG, as JASSO scholarship recipient also participated in the discussion.
Vice-Dean Fujie made explanations first on the "Unit" system applied at IAS and gave introductions on individual research fields. Then Dean Sadohara specified the departments, courses, and educational programs of the Faculty of Urban Innovation. The delegates from Paraguay made inquiries frequently and expressed desires to facilitate research collaboration and student exchanges. Next, they made a tour to IAS Research Units, Self-Healing Materials and Chemistry of Hydrogen Energy Conversion.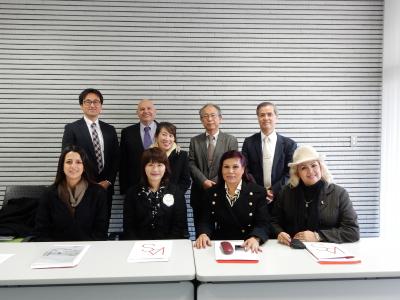 After the visit to IAS, the delegates visited Center for Creation of Symbiosis Society with Risk to take a look at "MIRAI," the fuel cell vehicle to take hydrogen as fuel, developed by Toyota Motor. This vehicle was introduced to YNU as an experimental vehicle unit for the research based on social and actual proof to organize "Safety Evaluation of Energy Careers (Research Head: YNU Professor Atsumi Miyake)," one of Cross-ministerial Strategic Innovation Promotion Program (SIP), initiated by the Cabinet Office of Japan. They took a commemorative photo in front of MIRAI.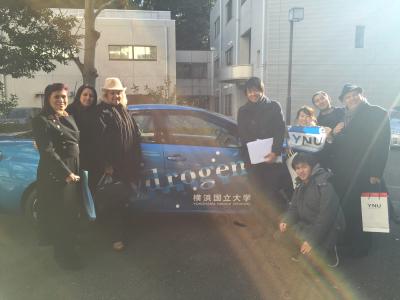 Taking this opportunity of their visit, further exchanges by mutual students and university staff will be expected.