"The 2nd Symposium on Latin America: Symbiosis with Risks and Development in Paraguay" Was Held
"The 2nd Symposium on Latin America: Symbiosis with Risks and Development in Paraguay" Was Held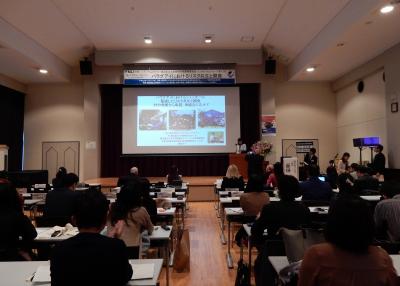 On Wednesday, January 27th, 2016, at Yokohama National University Education and Culture Hall, "The 2nd Symposium on Latin America: Symbiosis with Risks and Development in Paraguay" was held, as YNU International Symposium 2016 – Institute of Advanced Sciences Symposium Series the 12th (Co-hosted by Policy Development in Latin America, Institute of Advanced Sciences and YNU International Strategy Organization, sponsored by YNU Faculty of Urban Innovation and Japan International Cooperative Agency Yokohama International Center (JICA Yokohama)). This symposium was implemented in Japanese and Spanish.
The morning session was organized as "Student Session." First, Professor Yoko Fujikake, Principal Investigator of YNU Institute of Advanced Sciences, made an address to give an introduction of aim of the symposium. Then the students, Ms. Sara Luz María Mármol Irala from the University of Nihon Gakko (UNG) as JASSO scholarship recipient, YNU graduate student Mr. Seigo Sergio Sato Suzuki, a recipient of JICA Scholarship for Japanese Immigrants and their Descendants in Latin America, and the students to delegate the participants in YNU Paraguay Short Visit Program gave presentations.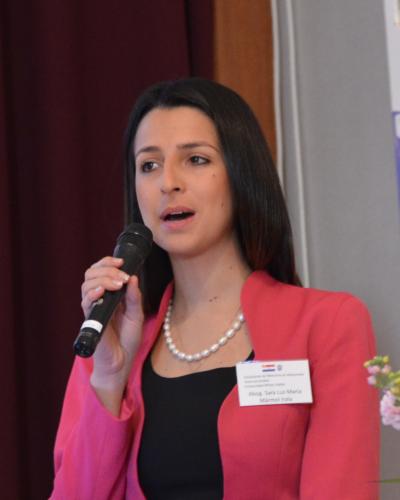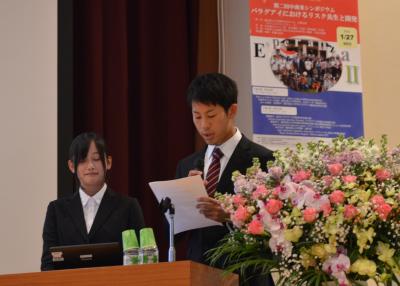 The afternoon session began with the sound and performance of Arpa (Paraguayan harp) by Arpa Studio Sonrisa. The hall was fulfilled with the beautiful sound and harmony, for the audience to enjoy the precious opportunity to listen to the performance with Arpa.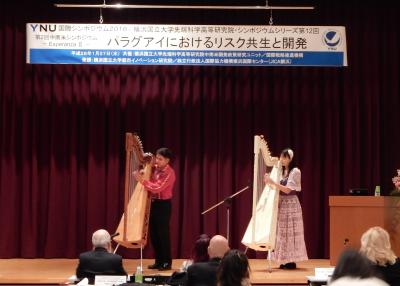 Subsequently to the opening address given by President Yuichi Hasebe, Ambassador Extraordinary and Plenipotentiary of the Republic of Paraguay to Japan, His Excellency Naoyuki Toyotoshi, gave a speech on "Investment to Paraguay."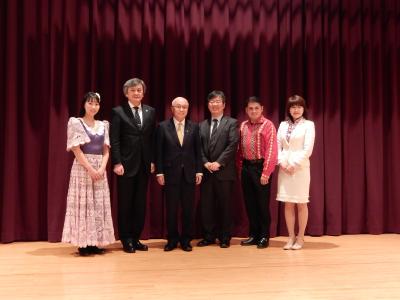 Next, the presenters gave presentations in order: "Research of Business Cost on Violence to Women in Paraguay," by Vice-Minister of Protection of the Rights of Women of the Republic of Paraguay Estela Eresmilda Sánchez Dávalos, "Symbiosis with Risks and Development in Paraguay, Considering Gender," by Professor Fujikake, "Social and Cultural Reality at the Poor District in Asución – The Situation of the School of Indigenes Cerro Poty," by UNG Professor María Amelia Britos Bogado, "Towards Better Urban Transportation in Medium-sized Developing Cities," by Executive Director and Vice-President in International / External Relations Fumihiko Nakamura, "Environmental Situations in Paraguay," by National University of Asunción (UNA) Adjunct Professor Juan Walberto Caballero Achucarro, and "Experience of the National University of Asunción in the Historical Process of Its Transformation," by Rector of UNA Abel Concepción Bernal Castillo.
Finally, this symposium was closed with an address by Executive Director and Vice-President in Research and Evaluation Shin Morishita. Approximately 130 people attended the symposium, to find higher attention and interest in Paraguay.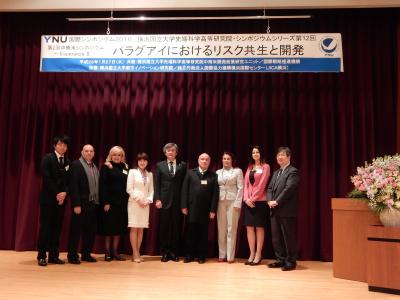 LtoR: Mr Sato Suzuki, Prof Caballero Achucarro, Prof Britos Bogado, Prof Fujikake, Pres Hasebe, Rec Bernal Castillo, Vice-minister Sánchez Dávalos, Ms Mármol Irala, and Exec Dir Nakamura