Yokohama Branch, Taipei Economic and Cultural Representative Office in Japan Visited YNU
Yokohama Branch, Taipei Economic and Cultural Representative Office in Japan Visited YNU
On March 4th, 2016(Friday), Director-General Nien, Shinn-Shyh and Mr.Wu, Yi-Kai, Yokohama Branch, Taipei Economic and Cultural Representative Office in Japan visited YNU. The courtesy visit was made at the President's office to be welcomed by President Yuichi Hasebe, Vice-President (in charge of education) Ono Yasuo, Executive Advisor to the President Hiratsuka Kazuyuki and International Office Manager Yoko Ito.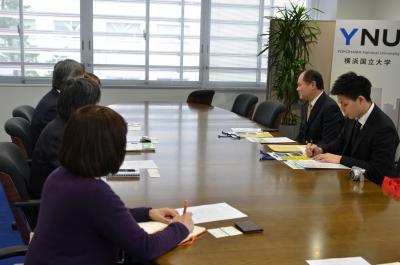 At the meeting, they exchanged views aiming to encourage student exchange between Taiwan and Japan such as International Education Fair and internship for foreign students in cooperation with companies in Kanagawa Prefecture. In addition, International Office Manager Ito introduced Summer Program starting in July 2016 in YNU as well as the pre-arrival admission and YCCS Program. The meeting took place in a friendly atmosphere from beginning to end and it was fruitful time for both sides.
President Hasebe is planning to attend the Taiwan-Japan University Presidents' Forum, which is scheduled to be held in Tainan, Taiwan, in May. It is expected to expand exchange network between Taiwan and Japan in the future.