Shine Mongol High School(Mongolia) Visited YNU

Shine Mongol High School(Mongolia) Visited YNU

On March 23rd, 2016(Wednesday), Dr. Naranbayar Purevsuren, Principal of Shine Mongol High School and Ms. Chie Imai, Japanese Language Teacher of Shine Mongol School visited YNU.
The courtesy visit was made at the President's office to be welcomed by President Yuichi
Hasebe, Executive Director Fumihiko Nakamura, Vice-President Ono Yasuo, Head of International Strategy Section Professor Hiromi Kabashima, Graduate School of Urban Innovation Associate Professor Takayuki Suzuki, International Office Manager Yoko Ito, and International Education Section administrative staff Kenichiro Murakami.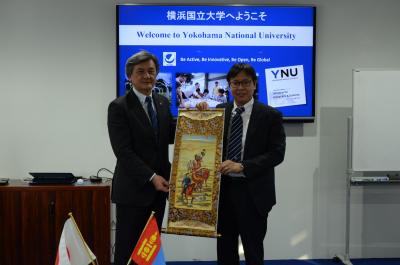 At the meeting, President Hasebe made a welcome speech and then Executive Director Nakamura introduced overseas study programs such as the pre-arrival admission. Shine Mongol High School students who are planning to study at YNU from this April also attended the meeting, and they said they were very looking forward to the university life in YNU and they hoped to do their best as the first students who have passed the pre-arrival admission examination so that their juniors will follow them. On this visit, the exchanges with Mongolia are expected to be further developed and deepened in the future.