Finnish Government Delegation visited YNU
Finnish Government Delegation visited YNU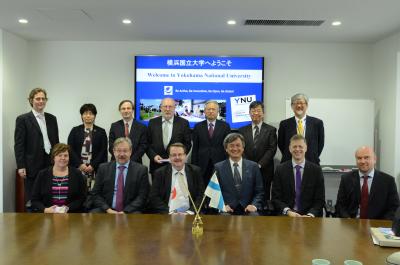 On March 10th, 2016(Thursday), Reijo Munther, Director for Department of the Enterprise and Innovation, Ministry of Employment and the Economy (MEE) and other 8 people of the Finnish Government Delegation visited YNU. The courtesy visit was made at the President's office to be welcomed by President Yuichi Hasebe, Executive Director & Vice-President Fumihiko Nakamura, Director of Center for Future Medical Social Infrastructure Based on Information Communications Technology (MICT) Professor Ryuji Kono and Faculty of Engineering Assoc. Professor Hannes Harald Raebiger. The Delegation visited Japan to attend the 6th Japan-Finland Joint Committee on Co-Operation in Science and Technology in Tokyo.
YNU has recently strengthened the cooperative relationship with University of Oulu, Finland. In November, 2015, President Hasebe and 4 educational and administrational staffs of YNU visited Finland, and they concluded an agreement in setting up YNU International Branch at University of Oulu. At the same time, they had paid the courtesy visit to the Mayor of Oulu and Ambassador of Japan in Finland.
After welcoming words from President Hasebe, Professor Kono introduced the exchange between Finland and YNU. Then, the both parties exchanged their views on which fields could be of further collaboration between them.
It is expected that this visit will lead to developing and deepening exchange.
Delegation members:
*Director Reijo Munther, Ministry of Employment and the Economy (MEE)
*Commercial Counsellor Antti Eskola, Ministry of Employment and the Economy (MEE)
*Executive Director Mika Lautanala, TEKES-the Finnish Funding Agency for Technology and Innovation
*Senior Lead Teppo Turkki,TEKES-the Finnish Funding Agency for Technology and Innovation
*Principal Advisor Mitsuru Niwano, TEKES-the Finnish Funding Agency for Technology and Innovation
*Executive Director Juha Ala-Mursula, City of Oulu
*Technolygy Specialist Jaana Kokko, City of Oulu
*Coordinator Takako Uchida, International Affairs Japan,Business Oulu
*Professor emeritus Pentti Leppanen, University of Oulu