Pukyong National University (Korea) Visited YNU
Pukyong National University (Korea) Visited YNU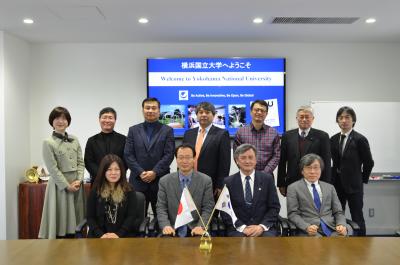 On February 22nd , 2016 (Monday), Pukyong National University Director of Professor Committee Prof. Lee Yeon-won and 6 professors of Committee visited YNU. Pukyong National University and YNU signed an academic exchange agreement on 2007 and has maintained a close relationship ever since continuing co-research and developing human resource. In September 2011, YNU held "YNU day" at the campus of Pukyong National University.
The meeting was held at the President's office at the Administrative building to be welcomed by President Yuichi Hasebe, Executive Director of General Affairs Masakatsu Ookado, Executive Director of Finance and Facilities Akira Shimizu, Exceutive Advisor to the President Professor Kazuyuki Hiratsuka, Head of International Strategy Section Professor Hiromi Kabashima and Manager of International Office Yoko Ito. The both parties discussed on their organizations and educational programs in a friendly atmosphere.
Then, they moved to the other meeting room and had an active exchange of opinions on the University President Election System and Preliminary Examination of the university.
It is confirmed that this visit leads to deepen the relationship between Pukyong National University and YNU.